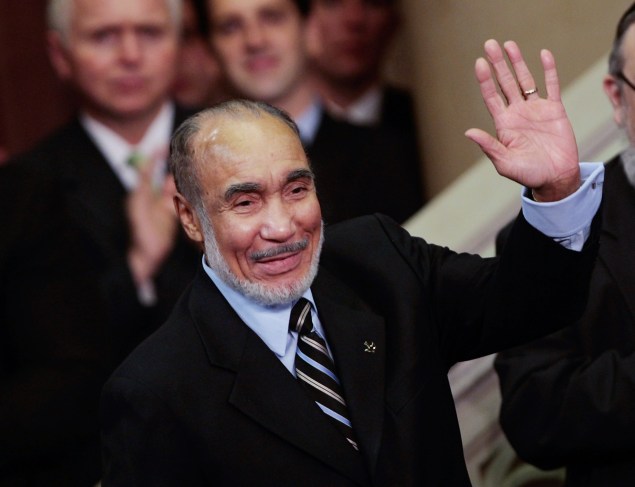 If anybody needed a crash course on who's who in New York politics, there was no better place to be than at Basil Paterson's memorial service at the imposing Riverside Church on Thursday evening.
As the sun set on a chilly spring day, a first lady, two governors, two mayors, a congressman and the state attorney general, among other elites, paid tribute to Basil Paterson, the Harlem power broker and father of former Gov. David Paterson.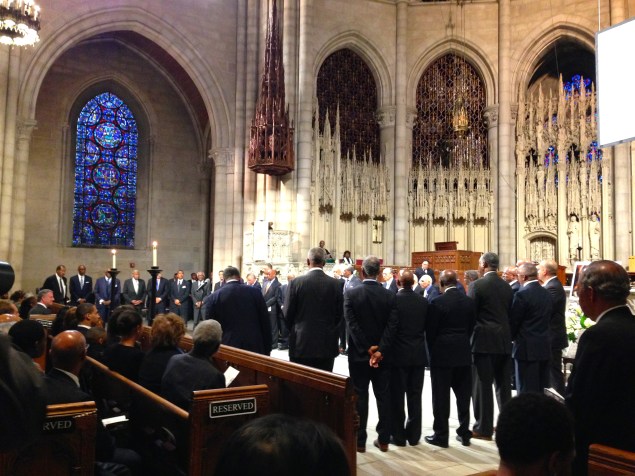 Mr. Paterson's life was a hallmark of Manhattan politics in more ways than one. He was a state senator, deputy mayor to Ed Koch, New York's first black secretary of state, an influential lawyer and a recognized labor negotiator.
As one of Harlem's Gang of Four–the other three were former Mayor David Dinkins, Manhattan Borough President and 1977 mayoral candidate Percy Sutton and the still-serving Congressman Charlie Rangel–Mr. Paterson was a mover and shaker in the city's political life.
Gov. Andrew Cuomo reminisced about his relationship with Mr. Paterson and his son, David, whom he recently appointed as chair of the State Democratic Party.
"I am essentially a contemporary of David Paterson and we grew up together, basically, and remarkably our fathers were very, very similar in many ways. And our situations were very similar in many ways," Mr. Cuomo, the son of three-term Gov. Mario Cuomo, said. "David and I would talk about the big shoes that we had to fill. And our fathers, who were growing before us, the good and the bad of being the son of Mario Cuomo and the son of Basil Paterson, the challenges and the opportunities."
Mr. Cuomo also spoke about the significance of Mr. Paterson's political legacy. "I learned so much just watching Basil Paterson and the example that he set. He taught us the original lesson of coalition politics with the Gang of Four, supporting each other, being there for each other. They had eleven losses among them before winning their first race."
Mayor Bill de Blasio, who attended the service in the company of his wife Chirlane McCray, spoke next. He recalled that he was deferential towards Mr. Paterson, who he met when he worked in the Dinkins administration.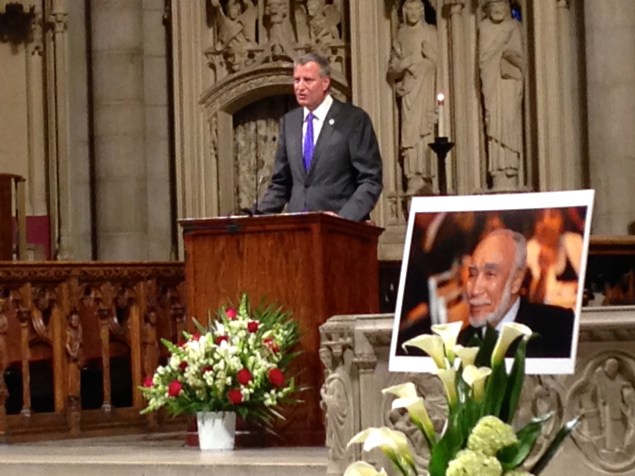 "I watched the love, the friendship, the support he gave to Mayor Dinkins, no matter what was thrown at Mayor Dinkins and all of us who were honored to serve with him. Basil was that calm reassuring voice," the mayor said.
Mr. de Blasio also spoke about Mr. Paterson's leadership and relationship with the city's unions, who Mr. de Blasio is tangling with as he negotiates their retroactive pay. "For so many in the labor movement, he was the one that told us how to keep moving forward, he was the one who could to navigate the things that others couldn't sort out. He had a supernatural calm amidst the storm."
Mr. Dinkins, whose voice broke twice while speaking, confessed his sadness.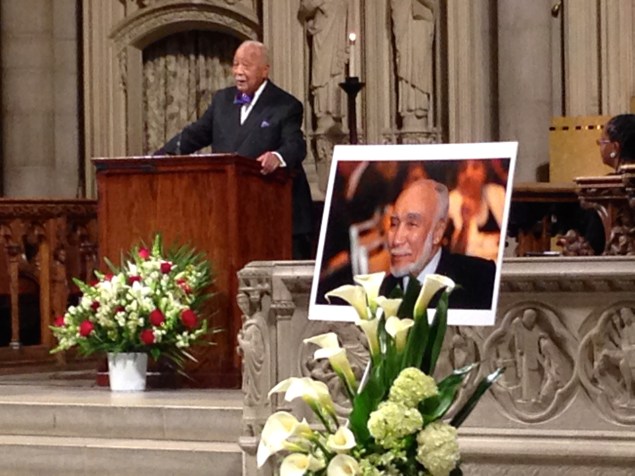 "I'm a big boy, I'm almost as old as Basil, older than Charlie Rangel. But I cannot remember a time when something hit me as hard as losing Basil," he said, reminiscing about the Gang of Four. "I am sure you know that was meant to be a derogatory term but we wore it like a badge of honor."
"I had said the Gang of Four is no more, there is only two of us left. However, you may not know that Charlie Rangel has a grandson named Charlie Rangel," Mr. Dinkins said. "I'm not making this up. Daniel has a son named Basil Paterson. And my bride Joyce and I have our boy over there and his name of course is David. So we figured out that if we take Peppy Sutton, Percy's son Pierre, change his name to Percy, we will have a new Gang of Four."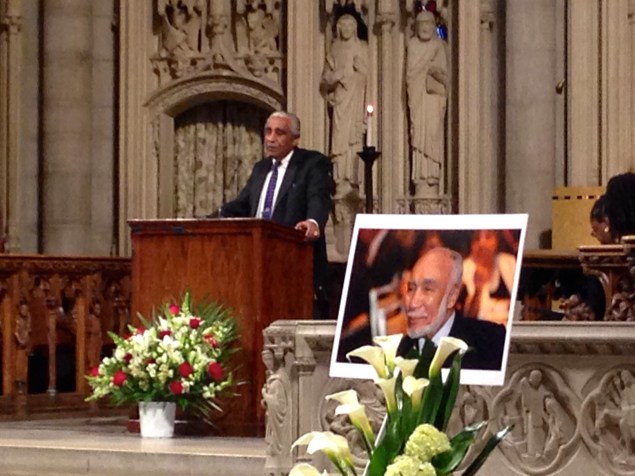 The other surviving member of the quartet, Mr. Rangel, took the podium and even joked about the candidate trying to oust him from office, State Senator Adriano Espaillat, who was also there. "Senator Espaillat, may you continue your great success in the senate," he said before praising Mr. Paterson.
Mr. Rangel also remarked on the humility of Mr. Paterson.  "This is a wonderful time for us to thank God for having known a person like Basil Paterson. I've never known anyone that has gone through the political life that he has, and have not known anyone who has ever heard an unkind word about Basil."
Mr. Rangel had a few parting words for his friend.
"Old buddy, wherever you are, see you later."