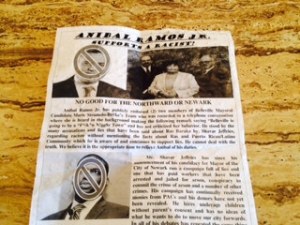 NEWARK – A leaflet of anonymous origin is being disseminated in Newark's North Ward on Election Day slamming incumbent councilman Anibal Ramos, Jr., claiming that he "supports a racist."
The two-sided leaflet has no identification regarding its origin, its author or who paid for its production.
Stating that he is "no good for the North Ward or Newark," the anonymous author of the leaflet points to Ramos' endorsement of members of Belleville mayoral candidate Marie Strumolo Burke's team.
Burke, who is running for mayor in one of the Essex County municipalities that border the North Ward of Newark, has been the center of controversy for racist comments she allegedly made in a recorded telephone conversation.
"[Belleville] is gonna be a (expletive) (N-word) town," a voice which belongs allegedly to Burke said at the end of a 90-second message, according to a previously published story by the Star-Ledger's James Queally.
"[Ramos] has not criticized her behavior," the leaflet continues. "He cannot deal with the truth. We believe it is the appropriate time to relieve Anibal of his duties."
The leaflet also asserts that Newark mayoral candidate Shavar Jeffries is "no good for the city of Newark," pointing to the recent arrests of paid Jeffries campaign workers reportedly tied to the alleged arson of Baraka's campaign bus. Ramos is on Jeffries' council slate.
The leaflet calls on voters to supports Jeffries' rival in the Newark mayoral race, South Ward Councilman Ras Baraka, as well as Baraka's slate mate, North Ward council candidate Luis Lopez.
Ramos, the North Ward councilman since 2006, told PolitickerNJ.com that the leaflet, called "midnight mail" by many Newark residents due to its anonymous nature, is "a last-minute act of desperation by the opposition."
"I have not endorsed Marie Burke for mayor, and once I found out about her comments, people were disgusted by what they heard, and so was I," Ramos said, noting that he supports members of Burke's team, but not her. "To try to make this an issue when I haven't endorsed her is silly. I'm running on my record of getting things done here in the North Ward. We've run a great campaign, and we're going to be successful today."