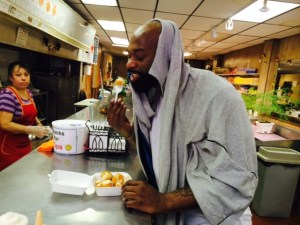 NEWARK – Michael Washington walked into Bergen Seafood on Bergen Street in Newark's South Ward on Saturday afternoon, looking for a fried fish treat to eat.
Washington knew what issue would be foremost in his mind when he went to the polls on Tuesday.
"Jobs, because there are no jobs," said Washington, 32, a South Ward resident who works at a glass factory in Secaucus. "I work, but I know a bunch of guys who don't. There are a lot of jobs here in Newark that other people are getting, I don't know if it's qualifications or not. I hope that the mayor can make companies hire more people from Newark, or they don't get the contract at all."
Washington leaned one way when it came to which candidate – South Ward Councilman Ras Baraka or former state Assistant Attorney General Shavar Jeffries – should get the job of Newark's next mayor.
"I would say Ras, because I've heard of Ras for a long time," Washington said. "He's done a lot of stuff for kids that I've personally seen.
"I don't know who Shavar is," Washington added. "Where was he before he decided to run? If I knew the same about both, then it would be a decision, and I would have to make a choice. But in terms of what I've seen about Ras, it's a landslide."
Washington paused for a minute to look at the menu. He was going to get the fried whiting, but then he changed his mind and got the scallops.
Before he headed back out onto Bergen Street, Washington was asked by PolitickerNJ.com what percentage breakdown prediction he would give for the South Ward in the mayoral race, and if he might change his mind before he votes.
"Does Shavar have to get a percentage?" said Washington, munching on his scallops. "It's 99 to one."