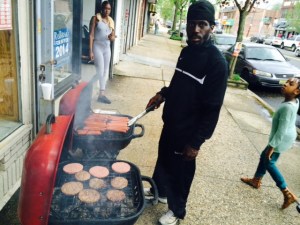 NEWARK – South Ward resident Isabel Merced paused in the middle of an impromptu Saturday afternoon barbecue held in front of a party planning store on Bergen Street, looking towards Tuesday's municipal election.
What Merced saw in the rapidly closing future: chaos.
"It's going to be crazy out here," said Merced, 32. "What's not going to happen?"
Regarding the issue that most affects her vote, Merced said that it came down to her daughter.
"It's about public schools," Merced said. "They're closing my daughter's school down."
Merced's daughter goes to Newark's Hawthorne Avenue, a public elementary school that is slated to be transformed into a charter school because of the controversial One Newark school reorganization plan, announced by Newark School Superintendent Cami Anderson in December.
The plan includes the expansion of charter schools, which already serve approximately 20 percent of the city's students, as well as the closure or consolidation of certain public schools.
Newark's schools were placed under state control in 1995. Anderson was appointed by Gov. Chris Christie to head the Newark school district, New Jersey's largest, in 2011.
The timing of the introduction of the One Newark plan, which came just at the start of the 2014 Newark mayoral campaign season, has set Newark's already incendiary politics on fire.
Baraka's allies have alleged that there is a close relationship between Anderson and Jeffries, who served as president of both the Newark school advisory board and the board of TEAM Academy Charter School in Newark. These allies have pointed to a photo of a February meeting between Anderson and Jeffries, which was published in February by PolitickerNJ.com, as proof of this relationship.
But Carl Sharif, campaign strategist for Jeffries who was also present at the meeting, told PolitickerNJ.com that "Mr. Jeffries was making it very clear to her about how disgusted he was, and how upset he was about the disrespect that she had been showing the community with her actions. He was very direct and the conversation was often intense and contentious. He made it clear that this is something that he could not tolerate."
Jeffries has subsequently made similar public remarks.
At the Bergen Street cookout near the corner of Lehigh Avenue, Merced felt the personal impact of policy decisions.
"She's in the fifth grade, and now I have to find another school for her," said Merced. "Don't get me wrong – they give you a couple of choices. But these charter schools, you've got applications to fill out. You've got to go through a screening before you get in there. It's not like you can just transfer from one school to another like with public schools. They're knocking down the public schools. Public schools are going away."
In context of what is happening with Newark's public schools, Merced said that her mind was made up when she votes on Tuesday.
"I'm with Ras. He was speaking out about how these schools can't be shut down," Merced said. "Where was Jeffries?
"It's going to be a close race down here. Some people have false hopes for Shavar. But he's another Cory Booker. What did Cory do for Newark? Nothing," Merced added. "They all say that they're for the hood until they get in the seat. Ras is really from the hood. He was my brother's teacher at Central High School."
Merced supports her family by working as a party planner. Glancing up and down Bergen Street between wafts of barbecue smoke on Saturday, she expected to see a different kind of street party on Tuesday.
"You've got the Ras and Shavar teams running around. Ras' team is rocking hard, but so is Jeffries' team," Merced said. "Everybody is out to win. Nobody is playing."