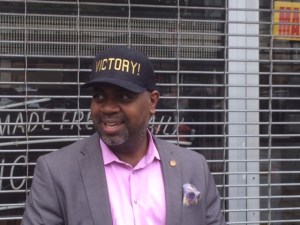 NEWARK – Less than 24 hours before Newark voters decide his political fate, mayoral candidate Ras Baraka scorned the normal ballroom rally for his final appeal to city voters.
Instead, Baraka took to Newark's streets, knocking on doors on the ground in deep defiance of an airwave bombardment dropped on his head, funded by the independent expenditure allies of rival Shavar Jeffries.
Earlier on Monday, Essex County Executive Joe DiVincenzo publicly backed Jeffries for the first time, calling his favored candidate "a real Newarker" who was better qualified that Baraka to take over Newark's top spot. DiVincenzo also made other statements regarding Newark's progress.
"You put the gear to the letter R, that means reverse. That means going back," DiVincenzo said during his speech earlier on Monday in which he declared his support for Jeffries. "I don't want to go back. And the only way that we're going to go forward is if you elect Shavar Jeffries as our next mayor."
But Baraka, getting shout-outs from drivers stuck in rush hour traffic on Newark's South Orange Avenue, directly challenged DiVincenzo's donation of Newark legitimacy to Jeffries.
"You mean reverse like the Democratic Party has gone in Essex County supporting Chris Christie for governor?" Baraka asked as he walked through Newark's West Ward's streets, backed by dozens of supporters and a sound truck blaring the Bob Marley reggae anthem "Get Up, Stand Up."
"I don't understand what that means about who is a real Newarker," Baraka added. "I think it's insulting for [DiVincenzo], somebody who doesn't live in Newark, to determine who the real Newarker is at a rally that was in Belleville.
"The people of the city are going to decide tomorrow what it is that they want," continued Baraka as he and his supporters continued their march from the West Ward to the Central and South Wards in the hope of drumming up last-minute support. "Newark is going forward. It's just going forward with the people, and not with Joe D."