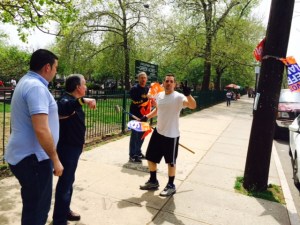 NEWARK – The four horsemen of Newark's East Ward Democratic establishment sat around the table of their war room clubhouse at the corner of Adams and Nichols streets in the Ironbound neighborhood on Saturday afternoon, preparing for the battle to come just three days away.
East Ward Councilman Augusto Amador, East Ward Democratic Chairman Angelo DiFederico, longtime neighborhood power broker Joe Parlavecchio and David Caetano, chief of staff to Assemblywoman Eliana Pintor Marin (D-29) are all united in their support of Newark mayoral candidate Shavar Jeffries, the rival of Ras Baraka in their duel for power to be settled on May 13.
They were also all united when they rushed out into the street during a discussion with PolitickerNJ.com to fight the first public skirmish in the battle for who will control Newark in the campaign's final days.
Directly outside the East Ward clubhouse, long connected to the North Ward Democratic machine led by Steve Adubato, Sr. and that produced Essex County Executive Joe DiVincenzo, two white men proceeded to tear down the familiar orange signs of Jeffries and, in this case, his slate mate Amador.
Amador, held back by Caetano, directly confronted the two men, one of whom appeared to be wearing a tee shirt emblazoned with union insignia.
"Hey! What are you doing? Get out of here!" yelled Amador.
"You're done, Amador! All of you guys are done!" yelled back the second man, who continued to tear down the sign with a rake.
"And where is your racist friend?" the second man continued, a pointed reference to reported comments made by Parlavecchio that were allegedly racially tinged.
After the signs hit the sidewalk, the two men sped off down Adams Street.
Several sources told PolitickerNJ.com that the men were acting independently of the Baraka campaign, and that union ties were suspected. Other rumors of counterattacks regarding signs put up by rivals of the regular East Ward Democrats were also reported to PolitickerNJ.com.
Moments after the incident, back inside the clubhouse, Parlavecchio made a prediction about the Newark mayoral race.
"Baraka talks like a revolutionary, so this is what you're going to get," he said. "Shavar Jeffries has the temperament of [former Newark mayors] Ken Gibson, the enthusiasm of Sharpe James and the intelligence of Cory Booker. He's the complete package. He's everything Ras Baraka is not."