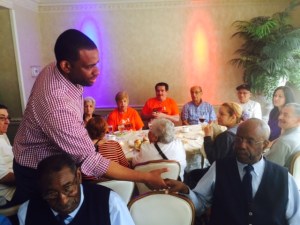 BELLEVILLE – Shavar Jeffries stood before a crowd of more than 300 seniors at Nanina's in the Park in Belleville on Monday morning, less than 24 hours before the polls open in neighboring Newark.
His numbers rising according to certain polling memos released in recent weeks, Jeffries has also been propelled by a wave of hundreds of thousands of dollars in independent expenditure funds. Derived largely from education reform supporters that back the expansion of charter schools, the torrent of money has allowed his campaign to achieve airwave supremacy over rival Ras Baraka in the race to run Newark.
But at his final campaign rally before canvassing all across the city for the rest of the day, Jeffries talked about what he needs to win the crucial ground game in New Jersey's largest city.
"The city of Newark is great, but can only be as great as it could be if we all work together to make it as great as it should be," said Jeffries, 39, to sustained applause from the crowd, minutes after Essex County Executive Joe DiVincenzo spoke out publicly for the first time in support of Jeffries. "My experience and my history teaches me that when all of us work together, there is nothing we can't do."
When questioned by the press about the impact of his campaign's financial backers, including prominent Wall Street financial firm executives and hedge fund employees, Jeffries pointed to the ballot box, not his campaign accounts.
"There is no hedge fund or Wall Street person going into the booth tomorrow," Jeffries said before drove off to knock on as many doors as possible in the campaign's final hours. "The people of Newark are going to make a decision. I'm very confident, and we know we're going to win this election."