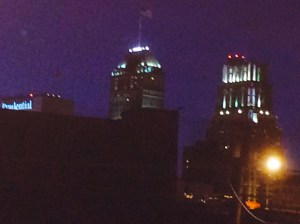 NEWARK – A critical scene from the 1970s cinematic classic The Godfather takes place between the characters of Michael Corleone and Clemenza. Corleone prepares to go on a mission on behalf of his family. Clemenza helps him, then offers an observation.
"These things gotta happen every five years or so, ten years," Clemenza says. "Helps to get rid of the bad blood."
In Newark, where politics is practiced according to a long-established warrior code, the street armies of rival Newark mayoral candidates Ras Baraka and Shavar Jeffries assembled over the weekend, preparing for political war before Tuesday's day of decision. In the state's largest city, municipal elections have to happen every four years, not five or ten. But the after-effects on this particular electoral battle could last far beyond that time frame. Perhaps because of this factor, the collective blood of Newark's politicos is close to boiling.
On Saturday morning in the East Ward, the Mediterranean Manor catering hall in the Ironbound neighborhood was jammed with hundreds of Jeffries supporters. The room was also packed with a full array of allies of the Essex County Democratic organization. The existence of that still-powerful political force, still centered largely in power broker Steve Adubato, Sr.'s North Ward, could be seriously threatened in the event of a Baraka victory.
Phil Alagia, chief of staff to Essex County Executive Joe DiVincenzo, looked on as Essex County Clerk Chris Durkin, Newark East Ward Councilman Augusto Amador and Essex County Sheriff Armando Fontoura among others made remarks on behalf of Jeffries.
When Jeffries took the microphone, he went at Baraka hard, doubling down on a demographic theme heard throughout his mayoral campaign.
"How in the world can someone even think about running to be the mayor of this city and have eight people on their slate, seven of them African-American, and only one of them not African-American?" Jeffries said to applause from the largely Portuguese-speaking and Spanish-speaking crowd. "Our city is about a third Latino and about 10 to 15 percent Portuguese and Brazilian. The leadership ought to reflect the beautiful diversity of our city."
Across town a short time later, Baraka rolled from several labor union rallies into the IHOP on Bergen Street in the Central Ward.
In his stump speech, Baraka called any assertions made by Jeffries that he would somehow foment violence in Newark, the scene of a quarter-century high number of 111 murders last year, instead of working to stop it as "insulting." He reminded the group that members of his family had been victims of gun violence.
And when Baraka was told by PolitickerNJ.com about Jeffries' allegations that he did not fully respect Newark's diversity, he felt disrespected.
"That's bogus. When I was supporting Hector Corchado to be the [North Ward] councilman, [Jeffries] wasn't there," Baraka said. "When I supported [Newark school board advisory member] Ariagna Perello to be the only Dominican in the county to get elected, he wasn't there as well. When I supported [former state Assemblyman and Jeffries slate member] Wilfredo Caraballo in the past, he wasn't around. That's a fact."
An indisputable fact about the 2014 Newark mayoral election is the large amount of money that has been injected into the race by independent expenditure funds.
Both the Working Families Organization, the pro-Baraka independent expenditure group, and Newark First, the pro-Jeffries independent expenditure group, have put hundreds of thousands of dollars into their candidates' campaigns.
One of the largest contributions to the pro-Jeffries Newark First group came from another group, Education Reform Now, who donated $850,000.
Members of the group, including board members who have experience working at high-powered Wall Street hedge funds, are active in the Success Academies network of charter schools.
The timing of the introduction of the One Newark plan, which came just at the start of the 2014 Newark mayoral campaign season, has poured gasoline on Newark's already inflammable politics.
The plan includes the expansion of charter schools, which already serve approximately 20 percent of the city's students, as well as the closure or consolidation of certain public schools.
Newark's schools were placed under state control in 1995. Anderson was appointed by Gov. Chris Christie to head the Newark school district, New Jersey's largest, in 2011.
The battle to control Newark has in many ways turned into a proxy potential gubernatorial contest between prominent Democrats seeking to succeed Christie.
PolitickerNJ.com previously reported that several Democratic sources indicated that Jeffries conversed with DiVincenzo and with allies of South Jersey Democratic power broker George Norcross III regarding his political future. These sit-downs suggest an alliance between North and South Jersey to ensure Jeffries' victory in Tuesday's election.
Norcross is also a close ally of State Senate President Steve Sweeney (D-3), the potential South Jersey blocker of the gubernatorial ambitions of North Jersey's Steve Fulop, Jersey City's mayor. Fulop endorsed Baraka in February.
Both Fulop and Norcross appear to have seriously invested themselves in the Newark mayoral race. Democratic sources have told PolitickerNJ.com that Fulop contributed $200,000 from his campaign coffers to the Baraka campaign shortly after his endorsement.
PolitickerNJ.com reported last month that a Philadelphia-based Democratic political media and consulting group, whose clients include close associates of Norcross, paid for recent cable television campaign advertisements sponsored by Newark First, the pro-Jeffries independent expenditure group, according to documents provided by a local cable television company.
Control.
This word was often discussed by Newark citizens over the weekend.
Inside the IHOP on Bergen Street on Saturday, a group of African-American men sat around a table eating pancakes.
"This money out there shows that this here in Newark is a very serious situation, even a national situation," one man said, pouring out some blueberry syrup. "This is about how the economic cake is going to be cut up."
There are some economic numbers looming over Newark that are deeply troubling, no matter which may you slice it.
The estimated $93 million municipal budget deficit and a potential state takeover of the city's finances will figuratively smack Newark's new mayor in the face, never mind who wins.
The claims of a State Comptroller's office investigative report released in February that a lack of oversight at the now-shuttered Newark Watershed Conservation and Development Corporation (NWCDC) led to a fiscally irresponsible atmosphere and the waste of public money also linger over Newark like a dark cloud.
But on a clear Sunday afternoon in the Ironbound, the proverbial calm before Tuesday's political storm was in full effect. Families streamed out of the neighborhood's many churches and into the area's well-known restaurants, a comforting weekend ritual.
But one Ironbound native who spoke on the condition of anonymity to PolitickerNJ.com outside of Casa Vasca restaurant at the corner of Elm and Prospect streets looked at things differently. On a beautiful Mother's Day, he jabbed his cigar a few blocks to the west and saw a terrible beauty about to be born on Tuesday.
"The Central Ward is a great place for an ass-kicking," the man said, smiling as he referred to the ward where many political observers believe victory in the Newark mayoral election will be achieved or will be lost. "This is going down. Hard."