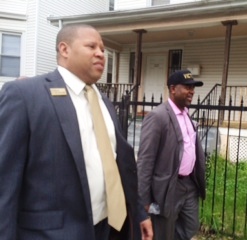 NEWARK – At first glance, John Sharpe James might have seemed out of place striding the streets on Newark's West Ward on Monday afternoon. After all, not long after daybreak, the current councilman-at-large will be locked in election combat with Brian Logan for the South Ward council seat.
Councilman-at-Large James, the son of former Newark Mayor Sharpe James, is on Newark mayoral candidate Ras Baraka's council slate. Logan, a former Newark Police Department detective and the football coach at Weequahic High School, is on the council slate of Baraka's rival, Shavar Jeffries.
But when asked by PolitickerNJ.com why he was rolling down the West Ward's streets with Baraka instead of focusing on the South Ward, James replied that he marching with his slate leader through the West and the Central Wards all afternoon on his way home to the South Ward.
Then, Councilman James, no stranger to literal firearms because of his previous work history, took rhetorical aim at Logan. And he verbally pulled the trigger.
"I think a combat veteran trumps any coach," James, who served with the U.S. Army in Afghanistan, told PolitickerNJ.com. "The bottom line is that I let my pedigree and my record speak for itself."
"I spoke up against the police layoffs. Mr. Logan didn't do so," added James in reference to the city laying off more than 160 police officers in 2010. "I want to show solidarity with the team. We're out here with the people. We've just got to make sure that our committed voters get out to the polls. We're campaigning for the right reasons – not because we're paid to run, not because we're bought. It's because we care about the community, and we want the community to improve."