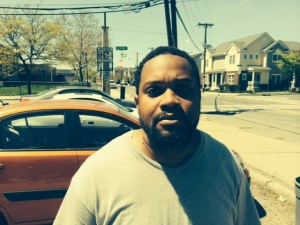 NEWARK – The outcome of the Newark mayoral election will be decided, in large part, by whether the competing teams led by candidates Ras Baraka and Shavar Jeffries wage effective political war on two fronts: on the airwaves and on the ground.
But at a hot dog stand located at West Kinney Street and Quitman Street in the city's Central Ward, possibly the most critical battleground in the upcoming municipal election, one Newark resident declared his disdain for one of these two fronts on Monday, just eight days before the May 13 municipal election.
"Those commercials and advertisements ain't nothing but networking. That's all just the gift of the gab," said Mikail Ramadon Healy, 42. "We live this 24-7. Come out here and live where we live. Then you'll see what changes need to be made. We need people here that are going to give back. I want to see a guy as mayor who's going to be around. Stay here. Be here."
Healy, who grew up on Prince Street, returned to the Central Ward recently after living in Texas for several years, where he ran a cab service and a cleaning service. He hopes to start a moving service soon. But what he really hopes for is a better neighborhood, led by an engaged community.
"It's a domino effect. We have to try our best to prevent these young kids from doing the things that we did," Healy said. "We've got to do it somehow. That's one of the reasons that I came back home. There's a lot that's lost up here. I'm going to do what I can do to get all the good back. I don't need to be into politics to do that. I don't need to be in no paper clipping."