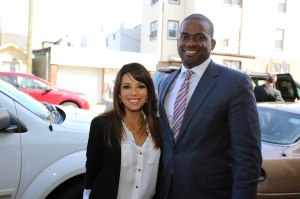 NEWARK – On a day when a new poll indicated a tightening Newark mayoral race, the intensifying contest between South Ward Councilman Ras Baraka and former state Assistant Attorney General Shavar Jeffries got an added spotlight when actor Eva Longoria came to Newark's Ironbound neighborhood to endorse Jeffries.
"This is a race that everybody is paying attention to. When a city like Newark makes national news, people are listening," said Longoria to a crowd of close to 800 people in the Mediterranean Manor catering hall on Jefferson Street, after she was introduced by Tenagne Jeffries, the mayoral candidate's wife. "He's not here because of his [public policy views]. He is here because he has strong women in his life."
A critical part of Jeffries' life and campaign narrative is the murder of his mother as a result of domestic violence when he was ten years old. His grandmother then raised him, helping Jeffries as he prepared to graduate from Seton Hall Prep, Duke University and Columbia Law School.
"I don't support candidates who treat women as a special interest group," added Longoria, who announced that she was backing Jeffries in his newly-announced #honorthymother campaign, a week-long series of events culminating in Mother's Day intended to remind people to honor their mothers by working for a better Newark. "I support candidates who recognize that women are half the population of this country, and we have a say."
Longoria also announced that the #honorthymother scholarship fund would help support children in Newark who lost their mothers to domestic violence.
Longoria, who gained fame playing the role of Gabrielle Solis on the ABC television show Desperate Housewives, is no stranger to politics. She was the co-chair of President Obama's re-election campaign in 2012 and campaigned for Cory Booker last year when he made the jump from Newark mayor to the U.S. Senate.
A poll released by Newark First, the pro-Jeffries independent expenditure group, on Monday showed Jeffries gaining on Baraka, with Baraka leading by a 38 percent to 34 percent margin.
In an interview, Longoria told PolitickerNJ.com why she chose to roll with Jeffries, unlike Sean "Puff Daddy" Combs, a.k.a. P. Diddy, who endorsed Baraka via Tweet on Monday.
"Diddy is misguided," Longoria said. "I think Shavar is a fantastic candidate who has the experience to do this job. His narrative of what he's been through is impressive to me. Your experience reflects the policies that you want to install. For me, he walks the walk and talks the talk."