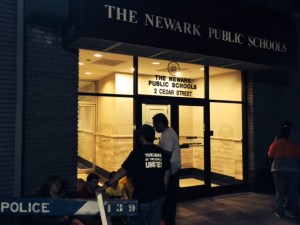 NEWARK – Some Newark high school students gave the term "pulling an all-nighter" new meaning as they staged an overnight sit-in protest against the One Newark school reorganization program backed by Newark School Superintendent Cami Anderson and called for her ouster.
Following an afternoon protest led by the Newark Students Union, the Newark Parents Union and a group of community organizations, several students then attended the scheduled Newark school advisory board business meeting on Tuesday evening at the Newark Board of Education's downtown headquarters, witnesses told PolitickerNJ.com.
When Superintendent Anderson and school board members proceeded to begin the meeting, a dozen of the approximately 50 students present then sat down in front of the podium, demanding that Anderson hear their concerns about the One Newark plan. Shortly thereafter, Anderson left the meeting, according to witnesses.
The protest then continued on from Tuesday night into Wednesday morning. PolitickerNJ.com spoke to Newark Student President Kristin Towkaniuk at around 10:30 p.m. Tuesday night through a crack in the locked doors of the Newark Board of Education headquarters on Cedar Street.
"We are protesting so Cami Anderson will hear our voices and stop the One Newark plan," said Towkaniuk, 17, a junior at Newark's Science Park High School. "Our demands include a meeting with [New Jersey Department of Education Commissioner] David Hespe, the stop of the One Newark plan, and the immediate removal of Cami Anderson."
Anderson was appointed to head the state-run Newark school district, New Jersey's largest, by Gov. Chris Christie in 2011. The governor publicly stated in September 2013 that he plans to reappoint her, and that he did not care about community criticism. Newark's schools were placed under state control in 1995.
The One Newark school reorganization plan, announced by Anderson in December, includes the expansion of charter schools, which already serve approximately 20 percent of the city's students, as well as the closure or consolidation of certain public schools.
Anderson has also proposed to lay off approximately 1,000 Newark public school teachers over the next few years, which she wants tied to teacher effectiveness as well as seniority.
The timing of the introduction of the One Newark plan, which came just at the start of the 2014 Newark mayoral campaign season, poured gasoline on Newark's already volatile politics and served as a rallying point for many supporters of Ras Baraka, who triumphed in last week's Newark mayoral election.
Later Tuesday night, Rashon Hasan, the chair of the Newark school advisory board, told security to unlock the headquarters' doors and spoke to PolitickerNJ.com inside Newark Board of Education headquarters.
"What we see right here is frustration – from the community as a whole, and more importantly from the students, who are obviously most impacted by the decisions of the One Newark plan and the strategies put forward by Cami Anderson," said Hasan. "What we saw was a carefully crafted initiative put forward by the students to hold tight to their beliefs. They came in here with some goals in mind, first and foremost which was to shut down our board meeting, which they succeeded in doing."
Hasan held a copy of an alternative school reorganization plan, known as Newark Promise, in his hand. The Newark Promise plan, which is being promoted by the Newark Student Union and other activist groups, calls for the return of local control to the Newark school system, improvements for school district facilities and less focus on the results of standardized tests, among other things.
"I am committed to reviewing this plan with the students tonight," Hasan said. "This is a great framework for moving our school district forward."
Before he went back upstairs, Hasan expressed less commitment to Superintendent Anderson's leadership of Newark's schools.
"As the board chair, I believe that it will be very difficult for this district to move forward, for our board to be productive and to conduct our business with Superintendent Cami Anderson remaining the head of this district right now," Hasan said.
According to televised reports on Wednesday morning, the Newark student protesters have now moved from the board's meeting room to the lobby of the Newark Board of Education building to continue their overnight protest against the One Newark plan and Cami Anderson's leadership of the Newark schools.