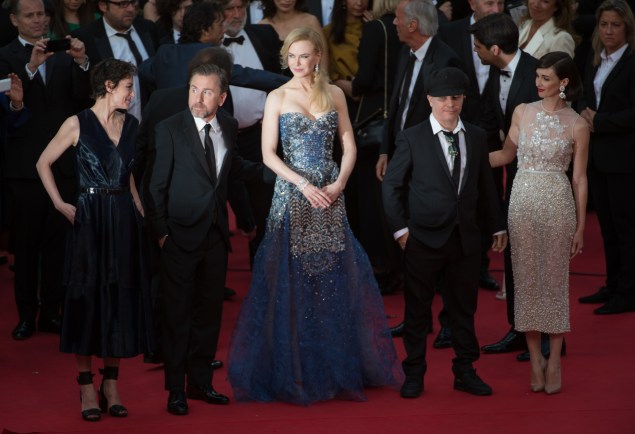 CANNES, France — Out come the knives. Nicole Kidman's troubled docudrama Grace of Monaco, which opened the 67th Cannes Film Festival last night, sent the international film community into paroxysms of gleeful snark-blogging ("excruciating," "toe-curling," fantastically silly"). It's been a few years since Cannes opened with such a hostile reaction—The Da Vinci Code debacle in 2006, the instantly forgettable Penélope Cruz vehicle Fanfan La Tulipe in 2003—and the global media was more than happy to feed the beast.
The film's two press screenings earlier in the day were full of campy catcalls and sarcastic applause—the cinephile's equivalent of a Rocky Horror Picture Show outing. "Bravo!" a heavily accented wag shouted at the end. One film website listed the film's six most "unintentionally hilarious" moments.
But is the movie that risible? Hardly a masterpiece but far from a failure, Olivier Dahan's biopic (with Kidman as the titular heroine) is an exquisitely photographed, sumptuously glamorous milquetoast that earnestly tries to illuminate Grace Kelly's bumpy transition from Tinseltown Oscar-winner to royal matriarch. Her husband, Prince Rainier III (Tim Roth) must keep hostile French president Charles de Gaulle from invading his petit city-state. What's at stake? Whether or not Monaco will stand as a tax haven for the super-rich. Cry us a river.
It's a marital crisis for Grace Kelly, though, since the film oddly argues that her feisty American attitude whipped the French government into a tizzy over Monaco's louche fiduciary policies in the first place. So Kelly must roll up her silk sleeves, turn down doing Hitchcock's latest thriller, and learn to navigate the treacherous tides of European politics while also trying to root out a Gaullist mole within the palace walls. But who cares, honestly? The worst that could happen is that a bunch of royals would be demoted to honorary heads of state or exiled into a foreign life of luxury. Boo-hoo. And with such rich-people-problem issues as the imperative, Dahan has an uphill battle to build any urgency.
So the gorgeous-looking, emotionally vapid opening night selection is sacrificed at Cannes' Altar of Cinema. Even the film's U.S. distributor Harvey Weinstein, who practically disowned the movie over the past few months and tried to dump it onto another company (before renegotiating his contact to pay only $3 million instead of $5 million for the rights), wasn't in attendance last night—lamenting that his absence was due to a longstanding promise to visit Syrian refugee camps in Jordan. Wait, what?
Meanwhile, Kidman and her co-star Tim Roth put on their game faces to meet the press, which was star-struck enough to toss them softballs. "You're breathtaking," gushed a Canal Plus anchor to Kidman during a private interview before the festival's official Q&A conference. "I always look for things that put me on a high-wire, and this is one of those roles," she said without a whiff of irony.
When asked for her reaction to the news that the Grimaldi family has condemned the movie (Princess Stephanie, Kelly's daughter, said that it "should never have existed"), she said, "Obviously I feel sad, because the film has no malice towards the family or particularly towards Grace or Rainier. It's awkward, but the performance was done with love." One journalist cheekily asked Kidman what festival prize Grace of Monaco deserved, and she answered with refreshing levity. "What would I give this movie? Come on—the Palme d'Or!"
From her lips to Weinstein's ears…