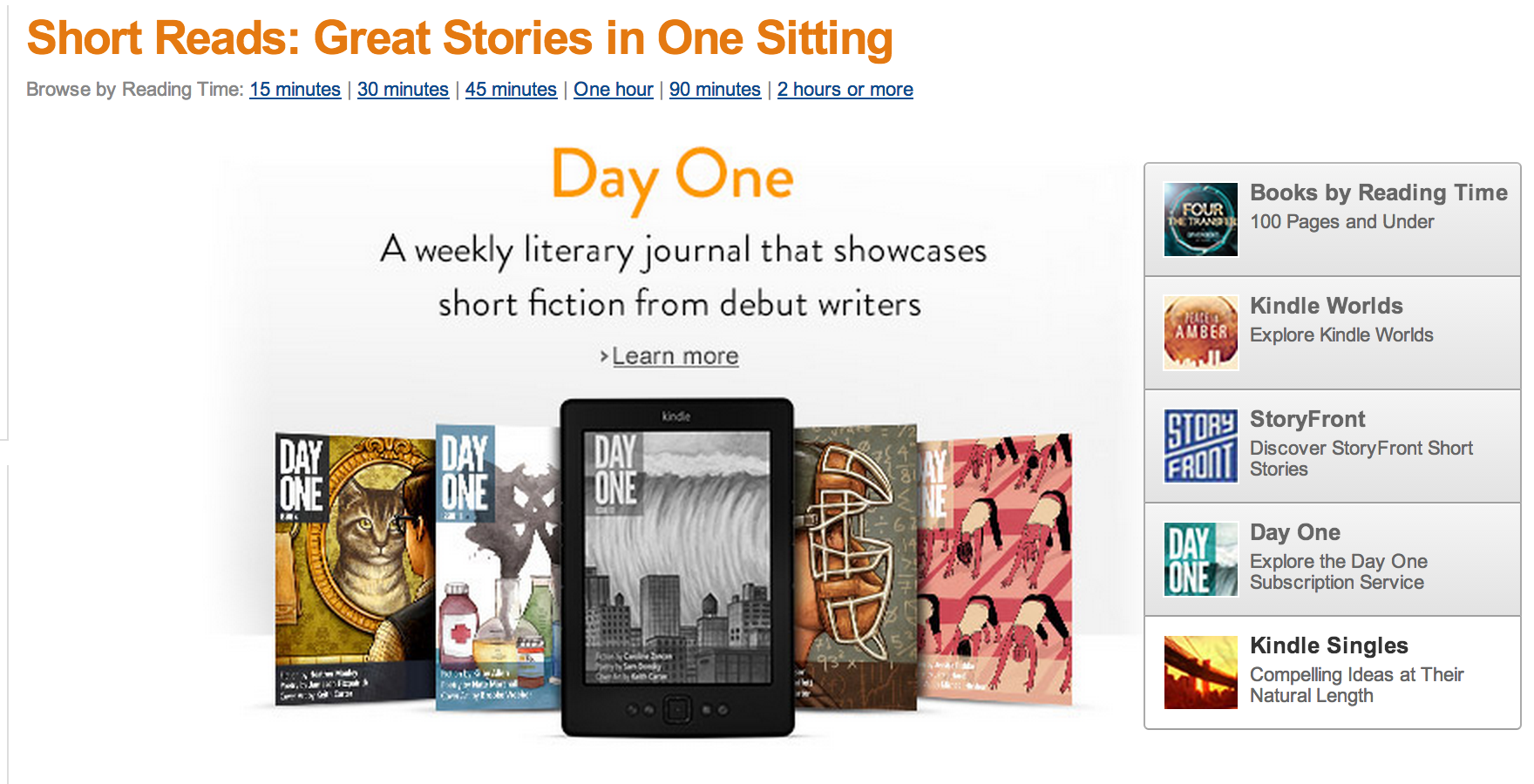 As if the idea of delivering sun glasses, board games and toaster ovens to your home via drone wasn't enough, Amazon is now looking to take over those fifteen minutes you were planning to spend taking BuzzFeed quizzes, clicking wistfully through Net-a-Porter or watching videos of highly skilled animals.
With its latest venture, Short Reads, Amazon is tapping into our downtime. The quietly launched new section of the website, which boasts "great reads in one sitting," offers short — generally ranging from 20 to 100 pages – works of fiction and non-fiction at relatively low prices.
The site allows users to search pieces by approximate reading time, with periods ranging from 15 minutes — the time suggested for "How to Gain Wealth with Just One Word" — to two or more hours — the duration suggested for each book in the "Obsessed" series, which retells the gripping romance of Ivy and Jax. Additionally, the page promotes the existing projects Kindle Singles, Kindle Worlds, StoryFront and Day One — ventures that focus on e-book singles.
Kindle Singles, the curated collection of short-form e-book singles, is a fitting program for Short Reads, as are the other spotlighted projects: Kindle Worlds offers fan fiction inspired by TV shows, comics and books, StoryFront features electronically published short stories, and Day One, Kindle's weekly literary journal, publishes short works from debut authors.
As Thin Reads points out in its post on the project, the site's focus on e-book singles suggests a push to make these count for a larger portion of Kindle sales. Particularly, the site publicizes e-book singles that are not part of the conspicuous Kindle Singles program. Many of these works were previously hard to find on the site and thus less likely to be purchased. Additionally, the page provides a platform to promote popular short stories, such as those by John Grisham and Michael Connelly, that cannot be highlighted in Kindle Singles because they have already been published in print.
Another purpose of Short Reads is possibly to spotlight genres not highlighted elsewhere on Amazon, particularly how-to books and romance fiction, both popular genres that are in no short supply on the new page. The instructive manuals range from the practical — "The Best Insults Ever – Win at any verbal argument!" — to the more specialized — "Crochet Rag Rug Sunflower Pattern (How to Make a Rag Rug)."
But before you roll your eyes, were you really going to do anything during your coffee break anyway?