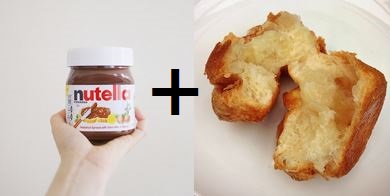 Forget the pastries. Dominique Ansel is actually in the business of making dreams come true.
The bakery has combined heaven Nutella with more heaven the Cronut and will introduce Nutella Cronut Holes next Monday, Gothamist reports.
Dominique Ansel will be handing out 2,000 of the treats to eager dessert fans from 10 a.m. to 2 p.m. at the Broadway Pedestrian Plaza between 23rd and 24th.
The sweet alliance comes right in time for Nutella's 50th anniversary of deliciousness.
This sounds like exactly what New Yorkers need on a Monday morning, but we're saddened to tell you this blissful treat will be available for ONE DAY ONLY.
What a tease! Why, Dominique Ansel? Why?
First they're accused of pastry plagiarism and now this?
I guess we could forgive them..in exchange for a Nutella Cronut.