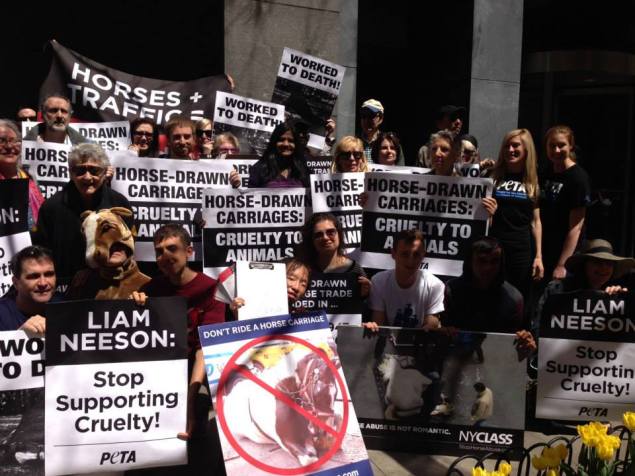 NYCLASS, the vocal animal rights group that is leading the charge to ban horse-drawn carriages in New York City, has parted ways with the Advance Group, a source with close knowledge of the relationship confirmed to the Observer this afternoon.
The move comes as the animal rights group ratchets up pressure on lawmakers to support a carriage ban, which Mayor Bill de Blasio has endorsed. It also comes as the consulting and lobbying firm, which had guided NYCLASS' political activities and press, has endured a barrage of bad reports related to campaign activities last year.
NYCLASS, which is short for New Yorkers for Clean, Livable and Safe Streets, did not immediately respond to a request for comment. But Scott Levenson, the Advance Group's president, said the tabloids' coverage of a possible FBI probe into his firm's activities had driven NYCLASS from his firm.
"We'll see what happens in the future. Obviously, we're big supporters of the horse-carriage ban," Mr. Levenson told the Observer. "I just think with the tabloids finding more interest in what we accomplished during the mayoral race than how inhumane the horse carriage industry is distracting from that struggle. Frankly, our clients felt it was a distraction as well."
The Advance Group spearheaded NYCLASS' successful independent expenditure against Christine Quinn in last year's mayoral race after Ms. Quinn, then the council speaker, refused to move forward on a horse carriage ban. Reports surfaced this year that the independent expenditure may have violated campaign finance laws, and the FBI is now investigating whether Mr. Levenson's group inappropriately coordinated with Mr. de Blasio's campaign, according to the Daily News.
Sources close to the Advance Group and NYCLASS have pushed back on the reports, claiming the FBI has not been in contact with members of either group.
The Campaign Finance Board, however, slapped two current City Council members and Advance Group clients with fines this week for accepting improper campaign contributions from NYCLASS. The board said that, because the council members were Advance Group clients and NYCLASS was also a client of the group, the contributions were "coordinated" and violated campaign finance law.
The Advance Group–which has seen a staff exodus in recent months–also drew fire last year for its efforts on behalf of an anti-same-sex marriage group. Current Council Speaker Melissa Mark-Viverito also accepted unpaid help from the firm, which editorial boards denounced.