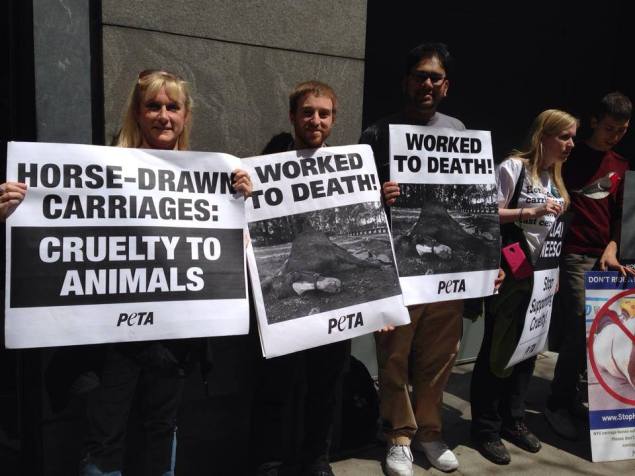 When it comes to the City Council, NYCLASS is not horsing around anymore.
New Yorkers for Clean, Livable and Safe Streets, the animal rights group seeking to ban horse-drawn carriages from city streets, is taking aim at the more than 20 council members still mulling one of the top priorities of the mayor. NYCLASS is plotting an extensive lobbying effort, sources say, to eventually cull together the City Council votes necessary to outlaw the carriages.
"100 people came to an organizing meeting last week. They were broken into teams by borough and will be canvassing in priority City Council districts to gain support for the removal of carriages from city streets," a source close to NYCLASS told the Observer.
"This is the start of a big ground effort by the hundreds of NYCLASS supporters to sway council members who may be on the fence right now," the source said. (NYCLASS declined to comment.)
NYCLASS emerged as a political force in last year's mayoral race when the group launched a successful independent expenditure against its bête noire, former Council Speaker Christine Quinn. The group also pumped money into various victorious City Council candidates—they entered 2014 with a vow from Mayor Bill de Blasio that horse-drawn carriages, which animal rights activists call inhumane, would immediately be banned.
But even with the support of Mr. de Blasio and his ally, Council Speaker Melissa Mark-Viverito, about half of the City Council has not committed to voting for a ban. Some have expressed concern about the possible loss of relatively well-paying jobs if a ban becomes law.
NYCLASS, at least so far, has also met its match in the Teamsters union, representing the carriage drivers, and the Daily News, which has blasted the group in scathing editorials and launched a petition drive to keep the horses in Manhattan.
The Daily News has reported that NYCLASS and their former consultant, the Advance Group, are under federal investigation for activities related to the 2013 mayoral race, though people close to both groups deny those reports.
An exact list of targeted council members has not been revealed yet, though it is likely very similar to the Daily News' April poll of where council members stand on the issue, sources say. For NYCLASS and their allies, this behind-the-scenes drive represents a furious counter punch to their poor press.
"They've been getting smacked left and right by the Daily News and now they're ready to fight back with canvassing, lobbying, phone calls and making members see there is support for their issues in their districts," a council source aligned with NYCLASS said. "They're keeping people to the promises they made. The mayor is still rock solid behind NYCLASS and their agenda. He will stick to his word. They just need to sort some other issues out first."
"All the bad press hasn't helped. It's spooked some members," the source added.
Undecided lawmakers were unsure whether NYCLASS' efforts would ultimately pay off.
"They know my opinion," Queens Councilman Mark Weprin said. "I would be willing to replace the horses with something else as long as we know their jobs will be protected and tourist dollars won't go away. I'm always open to talking about issues with people and I'm not close-minded to new arguments."
Brooklyn Councilman Rafael Espinal did not think NYCLASS' planned efforts would do much to change the minds of council members, particularly beyond Manhattan, however.
"I don't think the issue has much impact in the outer boroughs and I believe that in the outer boroughs more people are in favor of keeping the industry in the park," Mr. Espinal said. "A lot of constituents have the old-school New York mentality. They want to see the horse carriage industry stay in the city. It brings charm to the city."