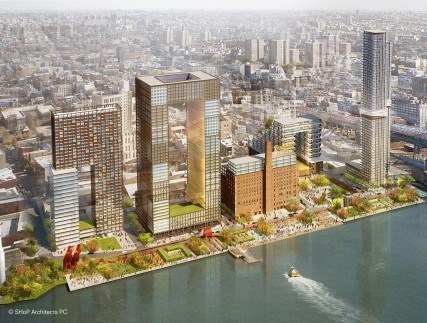 The City Council has, as expected, given the Domino redevelopment the green light, as reported yesterday in DNAinfo. The deal was all but done after the Council's land use committee gave the project the nod, but now it's official. Partner Vishaan Chakrabarti took to twitter to brag that it was "delicious moment for architecture." Also getting a green light, this one from the BSA: Studio Gang's High Line-adjacent "Solar Carve" building, Curbed reports. Developer William Gottlieb Real Estate finally gave up on trying to get additional FAR and just asked for minor setbacks, which no one minds.
The New York Times writes on a street of new townhouses in Boerum Hill and what it's like to actually create almost a block from whole cloth (the block had been long vacant, having been cleared for subway construction) that meshes with the neighborhood's ethos. Craving something with real provenance instead? If you don't mind moving to Moldova, Dracula's castle is for sale, The Telegraph reports. Though it's both a whisper-listing and bring-your-architect kind of situation.
As far as unusual homes closer to the center of the universe, Bay Ridge's "gingerbread house" has a new broker and a reduced, $10.5 million asking price, Brownstoner reports. Yes, $10.5 million is the reduced asking price for a wacky mansion in Bay Ridge.
Just stay away from the Dakota, lest you be drawn into its legal battles. Investor Craig Hatkoff, co-founder of the Tribeca Film Festival and Dakota resident, will be subpeonaed in the ongoing/never-ending discrimination case brought by resident Buddy Fletcher, The Real Deal reports.
We keep hearing about how student loan debt has hurt the housing market, stopping 20- and 30-something would-be homebuyers out of the market. So why doesn't data reflect this, Atlantic Cities asks? They argue that there are two different markets: corporate home-buyers snapping up large quantities of properties and propping up the market and family buyers, who aren't doing very well.
While Mayor Bill de Blasio's stated plan to put "a whole new city within a city" with his affordable housing plan might sound inscrutable, Crain's explains that the mayor touted plans to streamline the approvals process for affordable housing developments, reducing parking requirements and supporting a more efficient environmental review process.
Artist Maya Lin sold her Soho apartment for $4.1 million and bought a Noho apartment for $4.5 million, The Real Deal reports. The new place is even an artists-in-residence building. (Though when the artists reach the level where they're buying $4.5 million condos you wonder exactly what that's protecting.)
Let's hope NYCHA is also well-provided for. The nation's public housing is so underfunded that units are basically being demolished by neglect, Atlantic Cities reports, and if many buildings do get substantive repairs soon, their units will become uninhabitable.
A brick apartment building at 86 Christopher Street partially collapsed, DNAinfo reported, forcing the evacuation of 12 tenants and a least one Airbnb guest. The building had several DOB violations.
The City Council has wisely pointed out that Madison Square Garden probably doesn't need $17 million in tax breaks if that's how much Jim Dolan is taking home each year as his salary, according to Crain's. MSG argues that other sports stadiums in the city receive similar tax breaks and it's unfair to single them out. True enough, so why not end all the tax breaks and let the city use the much-needed revenue?