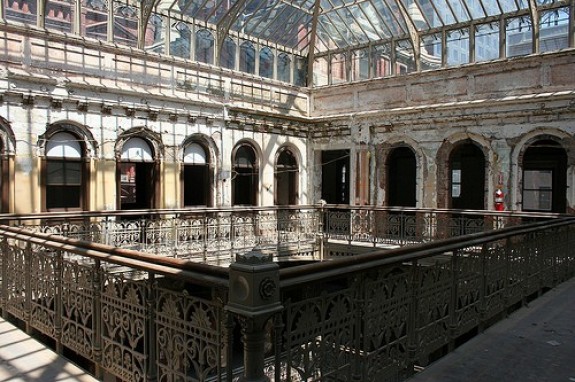 State Senator Tony Avella is already fighting proposals in Bill de Blasio's still yet-to-be announced affordable housing plan, according to Crain's. Mr. Avella, clearly anticipating that the mayor will include the legalization of granny units in his attempt to add 200,000 affordable units, "coincidentally" sent a release out today blasting the units. "These basement apartments are illegal because of the fact they are unsafe and usually don't have adequate means of egress," he wrote. "And, it is substandard housing. Why would we want to encourage that?"
Perhaps because we don't have enough up-to-standard affordable housing so people are renting them anyway?
Here's another solution: Seattle has just raised its minimum wage to $15 an hour, Atlantic Cities reports. The change will go into effect gradually, however, with smaller businesses being given more time to adapt. And while the most common argument against such moves is that they put places out of business, a Seattle suburb has had a $15 minimum wage for the past 5 months without any real trouble.
So much for all the conspiracy theories: Hasidic landlord Menachem Stark, who met his grisly end in January and was known to carry large quantities of cash, was most likely killed in a botched robbery attempt, according to The New York Times.The killing, in other words, was not some kind of mysterious underworld hit or connected to his debts.
The historic, glass atrium-topped skyscraper at 5 Beekman Street is slated to become a luxury hotel with restaurant and bars, The New York Times reports. There will be a condo tower next door. As the developer of the exceedingly lovely building told the paper: "Not only is there a market down here for this, there's not a person who hasn't walked into this building without their tongues hanging out."
Smelling blood in the water, LICH bidder Trindade Value Partners is offering to add $90 million to its $300 million bid in order to make the deal more appealing now that Brooklyn Health Partners' bid is falling apart, Crain's reports. Too bad they weren't one of the top picks to begin with and modifying an RFP after the fact is also probably banned. However, Don Peebles, the second bidder, doesn't plan to run a full-service hospital on the site.
Public advocate Letitia James, who opposed the Barclays Center, is now complaining that the glacial pace of construction will mean a very different racial and economic composition to the neighborhood, The Brooklyn Daily reports. By the time the towers get finished, in other words, affordable housing won't be as affordable as the neighborhood will have gentrified substantially. FCR throws the ball back by claiming it was lawsuits that held the project up in the first place (in the beginning, well sure, but for the last four years…).