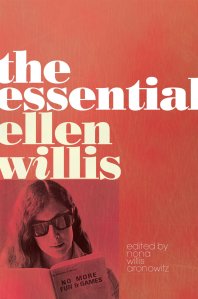 Sitting in Galapagos Art Space in Dumbo, you have the rare experience of being transported to a serene place in New York that's also a club—a venue for a trapezist or, one could imagine, a small Solange performance with bottle service. It's the kind of venue for those who prefer sitting on banquettes that line steel circular islands between wading pools, wondering where the koi are below.
Under Galapagos' purple lights in early May, Nona Willis Aronowitz, the critic Ellen Willis' daughter, stood in a black-and-gold dress to welcome a crowd actually brimming with smiles and introduced them to the nine writers (herself included) who would read excerpts from the new collection of her mother's work, The Essential Ellen Willis.
"There's always been 'If you can't beat 'em join 'em feminism' and feminism that purports to change the whole world," Ms. Aronowitz told me a couple of weeks before the event, at a Brooklyn café refreshed from an afternoon editing the book's trailer. Her mother fell into this latter group.
"People were kind of calcifying her as this young, cool rock critic that then just kind of faded away into obscurity," Ms. Aronowitz said. Her decision to put together the new collection followed the success of 2011's Out of the Vinyl Deeps, a collection of Ms. Willis' lucid rock criticism for The New Yorker and elsewhere, and two reissued books. (The University of Minnesota Press released all of them.)
The Essential Ellen Willis is a politically and personally minded book of Ms. Willis' work from the late 1960s until her death in 2006. Ms. Aronowitz served as its editor, selecting five young writers in addition to Stanley Aronowitz, her father, to introduce each of its sections that are organized by decade, while she wrote the first introduction.
Ms. Willis believed in intellectualism and optimism—in dialectics, as Sara Marcus spouted excitedly during the final reading at Galapagos. Her writing traced threads across politics and art using figures like Bill Clinton, Janis Joplin, the Sopranos and herself, as well as feminism's more divisive aspects. Was a consumer impulse the sign of an inferior female? (No.) Was the marital family, including gay marriage, subsuming and emblematic of traditionalist power? (Yes.) Could a radical argue for a pro-war agenda in 2002? (Yes.)
"This kind of collection could show how people my age could do this," Ms. Aronowitz said. She wanted to showcase her mother's writing as an example of how to "bring your own experiences into the larger world" for a new generation. (Cord Jefferson, one of the readers at Galapagos, referenced a Tavi Gevinson tweet about the book, and her appearance at the party seemed like a leap in that direction.)
Ms. Willis was the first pop music critic for The New Yorker, but her writing languished in the shadows for many years before her death. Ms. Aronowitz said that her mother's work had been kept in a large filing cabinet in the house in Queens that her parents lived in before Ms. Willis died, as if sealed off from the public. She eventually donated the papers to the Radcliffe Institute but worried "that if I gave [them] away, I'd never ever see [them] again." The publication of Out of the Vinyl Deeps gave Ms. Willis a whole new generation of readers and made Ms. Aronowitz something like the protector of her mother's legacy. She sees this posthumous reappraisal as a way of coping with her mother's death.
With a tone as sharp and amusing as Ms. Willis' writing, Ms. Aronowitz suggested that the ongoing appeal of Ms. Willis' work is its playful "liberationist spirit," like the 1980s satire of a
"National Family Security Act," which she offered up as the first reader at the party. Further interest lies in the incisiveness of her mother's ideals: "Her writing was really [a] part of this larger value system that she had."
That value system was made of the contradictions Ms. Willis mulled in her writing, which manifested itself during the party. While the crowd cheered Ms. Aronowitz's work to canonize her mother, it also expressed displeasure in turns. When Irin Carmon read from "Abortion: Is a Woman a Person?" in which Ms. Willis positions the right to choose as self-defense and analogizes its opposition to rape, one middle-aged woman carrying Redstockings flyers, an homage to the radical feminist group that Ms. Willis helped found in 1969, openly jeered at the lines about the essay's straw man "right-to-lifer."
By chance, Ms. Aronowitz's aunt sat next to me, coming off of a long trip from Queens. As Ms. Carmon finished, she turned to me saying, "Plus ça change."