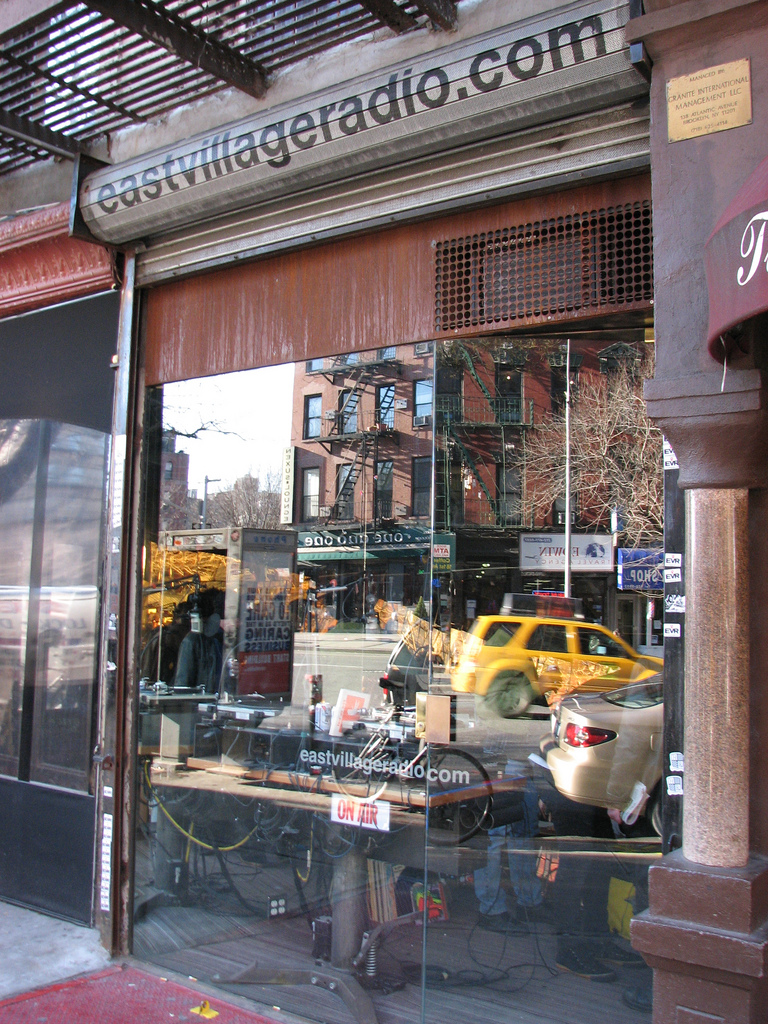 The East Village is going to get a little quieter next week.
East Village Radio, the independent online radio station based out of a storefront on First Avenue, announced today after 11 years it will be shutting down operations.
In a piece published on EV Grieve, a local blog, the station's CEO Frank Prisinzano said it just became too expensive.
"After doing some projections, we see that it is going to be very, very difficult for us to continue to break even," said Mr. Prisinzano.
The news comes as a devastating blow to the devoted listeners the station has had since 2003. So many listeners, in fact, it became too expensive to manage all them.
According to the Congressional Digital Music Copyright Act of 1998, Internet broadcasters must pay a digital performance royalty for each listener. As the station grew in popularity — achieving over 1 million listeners each month — so did the operating costs.
"Every time we get a new listener, it costs us more money with licensing fees and Internet costs," Mr. Prisinzano said.
"It's almost like we are being penalized for our growth," said Peter Ferraro, the general manager and head of programming at the station.
The station featured many different DJs and was known for capturing the spirit of the East Village — in all its eclectic, groovy glory. It was often the first place local musicians got airtime. They also drew heavyweight legends like Lou Reed, Richard Hell and John Lydon to the street level studio at 19 First Ave. between East First Street and East Second Street
"It has always been really pure to me. From the beginning I was thinking I had to give something back to this neighborhood," Mr. Prisinzano said. "I was worried about the music scene moving out to Brooklyn. It was important to represent the neighborhood."
Tune in for the last live broadcast next Friday, May 23rd.