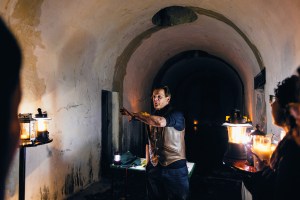 French high wire artist Philippe Petit is no stranger to dodgy circumstances, but he still couldn't imagine that his book party would get derailed when the cops found two dozen dead cats hanging from the trees.
Riverhead was trying to do something different to promote Mr. Petit's new book. Dead cats, though, that was a bit much.
Dylan Thuras, a co-founder of Atlas Obscura, a website devoted to the cataloging the world's curiosities and the coordinator of the event, explained that, like Mr. Petit, we were going to explore "crossroads of creativity and criminality." The original destination had been nixed after police found 24 dead cats in plastic bags hanging from trees in a Yonkers lot. The setup for the book party, which was near the Yonkers lot at an unspecified location, suddenly attracted some police suspicion. Apparently, it looked like some sort of Satanic Cult.
So the new location, also undisclosed, was hastily arranged at the last minute.
During last week's torrential downpour, reporters and literary types boarded a steamy chartered bus parked outside of Madison Square Park.
Destination: unknown.
The invitation from Penguin imprint Riverhead for Mr. Petit's book party had been light on details. Attendees were instructed to wear comfortable shoes, bring a plastic fork (one was sent over) and (perhaps most challenging of all) be on time. Riverhead editorial director Becky Saletan and publicity director Jynne Martin walked up and down the bus, distributing Shake Shack burgers. There was a heavy field trip vibe going on.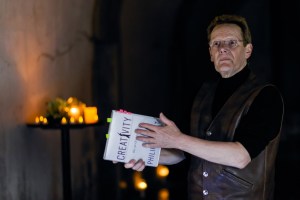 "He was one of our first writers at N plus" we overheard someone say. There was a lot of small talk about authors and grad programs.
"This is all very mysterious," someone else said, before guessing where we were headed.
The windows were fogged up, but it felt like we were headed downtown. Chinatown became a blur as we crossed the Brooklyn Bridge.
"If I could get the G home it would be pretty sweet," someone said. That was a popular sentiment.
Finally, the bus pulled into Greenwood Cemetery, in front of the catacombs.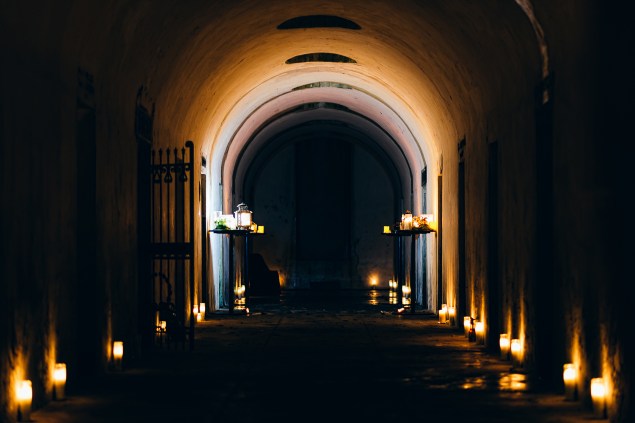 There, past a table bearing Mr. Petit's book Creativity: The Perfect Crime was the author himself. He demonstrated how to get out of handcuffs and led the crowd in creatively reimagining uses for forks. The word "creativity" sounds better with a French accent.
"If everything went perfect, nothing would work," Mr. Petit said.
After reading from the book, he offered to sign copies. Speak-easy style bars with suspender-clad bartenders and cocktails heavy on the bitters were set up in two of crypt's chambers. The hallways were illuminated by well-placed candles and dried flowers in mason jars.
Eventually, the book party ended and the crowd boarded the bus.
The bus did make a Brooklyn stop: Atlantic Terminal. Most people, including Riverhead publisher Geoff Kloske, got out.
Eventually, it always ends in Brooklyn.