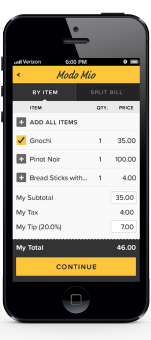 Splitting the cost of a dinner between friends can be frustrating now that so many people don't carry cash. But thanks to a new partnership between MyCheck and PayPal, the process just got a lot easier — as long as you're dining at a participating restaurant.
Starting last week, PayPal's mobile app incorporates technology from MyCheck, an app that enables customers to split their restaurant bill item-by-item and pay through the app. It eliminates the awkwardness of trying to split up a restaurant bill line-by-line and saves time, enabling diners to pay through the app and leave whenever they want. 
"The MyCheck experience in the PayPal app is truly unique and will give people the ability to roll out of a venue like they own it," cofounder and U.S. CEO Tal Zvi said in a prepared release.
It's hardly the only service of its kind — Dash and Cover come to mind — but it is the only one that's also been assimilated into PayPal's interface. Therefore, at this point, it's the most likely of the check-paying apps to attain widespread adoption.
And such adoption is crucial when it comes to apps like this. The more people are using MyCheck, the more restaurants will be willing to adopt the technology. This, in turn, will create even more MyCheck customers.
More than 3,000 merchants participate in MyCheck worldwide, MyCheck spokesperson Michael Paffmann told Betabeat. The company began in Israel before also setting up shop in London and New York City. PayPal users can access the services through the PayPal app, while people who don't have PayPal accounts can just use the MyCheck app.
"PayPal users enjoy the MyCheck experience without ever leaving the PayPal app," cofounder and CEO Shlomit Kugler noted in a prepared release, while "merchants benefit from the exposure of PayPal's broad reach."
Restaurants like Gotham Bar & Grill, Rouge Tomate and Pera Mediterranean Brasserie are now using the MyCheck system, along with about 150 more eateries in Manhattan. To find a restaurant that participates in MyCheck, users can open either the PayPal or MyCheck app and turn on location services to find a participant near their current location.