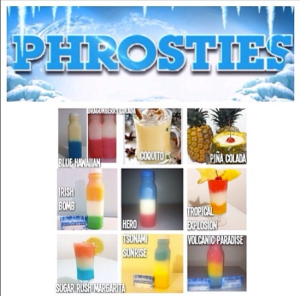 The only way is up, phucked up.
The popular (and illegal) alcoholic slushie delivery service, Phrosties, is thriving across New York City — and no one is doing anything to stop it.
"They are not registered and they don't have a license," Bill Crowley, Director of Public Affairs for the SLA, told the Observer. "We're looking into it, and are worried about this, but they're dealing in illegal trafficking."
However, there is little the State Liquor Authority can do to terminate the cash-only, Instagram-based business.
"It's in the hands of local authority, the NYPD," Mr. Crowley said. The NYPD did not respond to repeated requests for comment.
Phrosties are the epitome of sketchy. Customers text a phone number, found on the company's Instagram, and a few hours later, incredibly strong (and disgusting) alcoholic slushies arrive at their door.
The technicolor chills, at $10 each, are sweeping the boroughs and no one knows what ingredients are in them or how much alcohol they truly contain. The high sugar and alcohol content is obvious at the first sip, according to Grub Street.
"It's like drinking frozen Kool-Aid, mixed with Red Bull and spiked with 150-proof Everclear," one reporter (of many) wrote, who tried Phrosties in the name of journalism.
With all the publicity, Phrosties is feeling the heat. A reporter who tested and reviewed the slushies told the Observer that the group reached out after the fact, asking repeatedly that the reporter remove mention of their business from the article.
With flavors like Tsunami Sunrise and Volcanic Paradise and marketed as "BEST TASTING FRUIT SLUSHIES IN NYC BRONX, MANHATTAN & NJ," Phrosties cater to one and all since they do not check IDs.
This Memorial Day weekend, try not to get too phucked up. And for your own health (and dignity), don't call for a Phrostie.