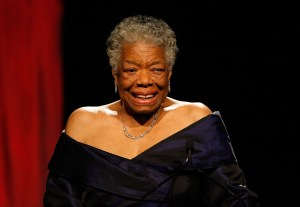 Poet, memoirist, educator and humanitarian Maya Angelou died today at the age of 86 at her home in North Carolina.
Ms. Angelou will be remembered for her immense collection of essays, memoirs and poetry, through which she explored the theme of identity in America, especially in the Civil Rights era.
She is best known for her seminal 1969 memoir I Know Why the Caged Bird Sings, which tells of her childhood in Arkansas. It gained her international acclaim.
Though her work is most closely associated with the South, where she resided most of her life, Ms. Angelou had an indelible impact on the literary culture of New York City. During the late 1950s, she lived in the city and was a member of the Harlem Writers Guild — an organization of African-American writers.
Random House, Ms. Angelou's publisher, sent out a statement this afternoon from Robert Loomis, her editor of 40 years: "Maya, a dear friend, helped change our hearts and minds about the African American experience in the United States, bringing it to vivid life, and her spirit and energy crossed all borders and deeply affected readers around the world."
Below is a poem from her 1983 collection, Why Don't You Sing? It is a testament to her ability to capture the spirit of place.
Awaking in New York
Curtains forcing their will  
against the wind,
children sleep,
exchanging dreams with  
seraphim. The city
drags itself awake on  
subway straps; and
I, an alarm, awake as a  
rumor of war,
lie stretching into dawn,  
unasked and unheeded.