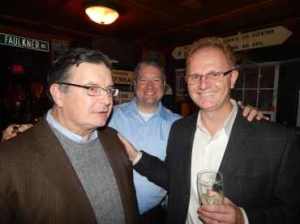 With all the uncertainty of who will clinch the Democratic party's nomination to succeed outgoing U.S. Rep. Rush Holt, one thing seems clear at this point.
It will likely be a female candidate.
"Despite the very tight race, one thing does seem certain," said Patrick Murray, director of the Monmouth University Polling Institute, in a recent survey. "New Jersey's congressional delegation will include a woman for the first time in twelve years."
State Sen. Linda Greenstein (D-14) and Assemblyman Bonnie Watson Coleman (D-15) are battling neck-and-neck in a closely-watched primary race to succeed Holt. (Of course, Assemblyman Upenrda Chivukula (D-17) and Princeton scientist Andrew Zwicker are also in the mix – but trailing in the poll.)
And with that, here's a look at some of the individuals (in no particular order) who would succeed Greenstein or Watson Coleman in the New Jersey Statehouse in the event one of the two are elected to Congress:
Legislative District 14
Assemblyman Wayne DeAngelo (D-14)
The state lawmaker didn't leave a shadow of a doubt over his intention to seek Greenstein's Senate seat if the former assemblywoman herself goes to Washington. "If Linda leaves," DeAngelo told PolitickerNJ earlier this year when Greenstein was mulling a congressional bid, "It was always my intention to run for the Senate seat."
The labor official who began serving in the Assembly in 2008 could make a strong case for the seat and his bid would be undoubtedly supported with union dollars. But he won't be the only person seeking the position.
Assemblyman Dan Benson (D-14)
Another assemblyman with an eye on moving to the upper chamber is DeAngelo's district mate. "It's something that I would be looking at," Benson told PolitickerNJ around the same time DeAngelo indicated he would make a run for Greenstein's seat.
And while DeAngelo's strength is labor and labor dollars, Benson's advantage is putting together organization. Benson is known to have done a good job at making allies with Democratic committee seats holders, meaning a convention fight could be a serious battle.
John Cimino
The Mercer County freeholder works in Hamilton as the vice president of project development at CHA Consulting. He's the son of former Assemblyman "Skip" Cimino and narrowly lost a bid for the Assembly against Benson.
Jumping DeAngelo or Benson on the Senate seat would be a stretch, so an Assembly run to fill a vacancy in the lower chamber could be more realistic. However, can LD 14 be stacked without any diversity?
Councilwoman Leslie Koppel
Monroe Township Council's vice president is a life-long township resident. She was appointed to fill an unexpired term in 2006 and won her seat in 2007.
Mayor Janice Mironov
The well-respected East Windsor mayor is the past president of the New Jersey League of Municipalities. Mironov not only established herself as a Statehouse figure, but she's established herself within the district. She's run an unsuccessful Statehouse bid before, but that was in a different environment and prior to LD 14 changing shape.
However, can the district go without any Middlesex County representation?
Plainsboro Council
The council has two notable personalities who could make a Statehouse bid in the event Middlesex helps push Greenstein over the finish line:
Committeeperson Nuran Nabi has a PhD in biochemistry and has done postdoctoral research at New York University Medical Center.
Committeeperson David Bander is a staff representative at 1199 SEIU and has a history of working in government, including as former chief of staff to Greenstein.
Ginger Gold Schnitzer
Last, but certainly not least, is the lead Statehouse lobbyist for arguably New Jersey's most powerful political lobby, the NJEA. The union, which represents 200,000 active and retired teachers and staff, tapped a figure to lead its lobbying efforts who's well-known in Trenton.
Legislative District 15
Similar to many legislative districts around the state, vacancies in LD 15 don't come around often. As is such, the amount of people tossing their hats in the ring in the event Watson Coleman heads to Washington is plentiful.
Here are some in no particular order:
Samuel Frisby
The Mercer County freeholder is the CEO of the YMCA of Trenton. The state's capital city is the district's largest city, but is without a long-term Trenton-based representative. Frisby, who's expressed interest in the Assembly seat, would likely be one of a handful to jump in the race to succeed Watson Coleman.
And don't discount other freeholders expressing interest or jumping into the mix, including Pasquale "Pat" Colavita and Lucylle Walter.
Elizabeth Muoio
The chairwoman of the Mercer County Democratic Committee has not been as vocal as some of the other district officials in seeking a legislative seat, but would likely be the favorite of some in the district to succeed Watson Coleman.
Mayor David DelVecchio
Lambertville's mayor considered running for the state Assembly after his town was put in a Democratic-friendly district during the last redistricting. It's likely he'll mull a run in event there's an opening.
As would other municipal leaders, including West Windsor Township Mayor Shing-Fu Hsueh, Hopewell Borough Mayor Paul Anzano, Hopewell Township Mayor Bruce Hankins, Lawrenceville Township Mayor Cathleen Lewis, former Lawrenceville mayors Greg Puliti or Pam Mount.