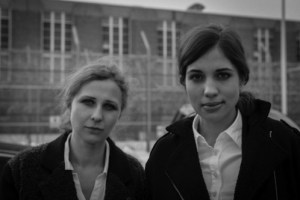 "It's so dreary at art fairs talking about art fairs and collections. You know what I mean?" said Tom Eccles, the executive director of the Center for Curatorial Studies at Bard College, who co-organized this year's program of Frieze Talks. "It's normally sort of very self-congratulatory, it's the usual subjects."
He was standing outside the Randall's Island tent on Friday, stealing a quick cigarette, after the most-talked-about talk on his roster wrapped up: Pussy Riot cofounders in conversation with New Yorker editor David Remnick.
Mr. Remnick began by asking Nadezhda Tolokonnikova and Maria Alekhina, both in uniforms of black jackets and skirts, red lipstick, unpainted nails and no jewelry, about the origin of Pussy Riot. After the United Russia party announced that Putin would be the next president, they explained, they began organizing with other artists in earnest. In 2011, they decided to give a talk on "political punk feminism," believing that it must already exist in Russia.
"So, as usual, we do everything at the last moment, and about 12 hours before the talk we started researching and we discovered that there was no such thing in Russia," said Ms. Tolokonnikova through a translator, drawing laughs. "And so in those 12 hours, we suddenly found ourselves with this task of historical and epic importance, which was to create Russian feminist punk."
Their movement was in full, neon balaclava swing by the time they were arrested in February 2012, following a performance in Moscow's Cathedral of Christ the Savior that targeted the increasingly close relationship between the government and the church.
"In certain circles, the Church of Christ the Savior is called 'the mall of Christ the Savior,' which sounds insane, but if you go on their website, you'll understand why," said Ms. Tolokonnikova. "There's a carwash, there's a laundry service, and there are several restaurant rooms that you can rent out for very, very large sums of money."
The church, added Ms. Alekhina, had recently granted political VIPs easy access to a relic associated with the Virgin Mary, while common folk waited in lines many kilometers-long to see it.
Since their December 2013 release from prison, where they spent nearly two years after a highly contentious conviction, Ms. Alekhina and Ms. Tolokonnikova have been campaigning for prisoners' rights through their new organization, Zona Prava. Earlier that day, they had visited Occupy Wall Street protestor Cecily McMillan, who faces up to seven years on Riker's Island for assaulting a police officer.
According to Ms. McMillan's version of events, she elbowed plainclothes police officer Grantley Bovell after her breast was groped, resulting in bruises. "Do you expect every time a woman has her breast grabbed to ask 'are you a police officer?' before doing anything about it?" Ms. Alekhina half-joked.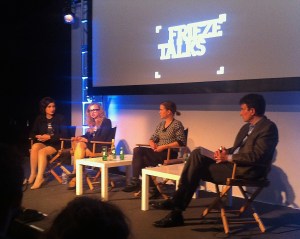 Throughout the talk, the two women kept things light, answering questions with quips. At various points, Mr. Remnick pressed them to answer the serious parts of his questions.
"It's very hard to talk about this seriously," said Ms. Tolokonnikova. "If you start talking about it seriously, about what's happening to us in Russia, it's really grim."
Ms. Alekhina took him up on it, though, and described instances of activists being tortured by the police. One friend, she said, was taken to the woods where he was locked in the trunk of a car with an ant nest on his head.
The mood lightened during the Q&A session, when one woman, in lieu of a question, came with a gift: custom "pussy pouches" she had designed.
"No pussy pouch for me, huh? What am I chop liver here?" said a mock offended Mr. Remnick. "This is my first pussy pouch delivery ever," he added, as he passed the box to Ms.  Tolokonnikova and Ms. Alekhina.
As the women began carefully opening it, a professor of punk (no joke) at NYU began asking an involved question about whether Ms. Alekhina and Ms. Tolokonnikova were still in contact with Pussy Riot members (they're not part of the group anymore), but Mr. Remnick cut her off, reading the room. All eyes were on the box. "I think we all have to see it," he said.
Out came two large, rectangular, pale pink clutches with stylized vaginas on the front—fabric ovals with slits down the center and gold studs suggesting clitoral piercings. Ms. Alekhina and Ms. Tolokonnikova looked bemused.
Soon the crowd was swarming the two women, soliciting autographs and posing for pictures. "A thing like Pussy Riot's a bit like the Paul McCarthy, no?" Mr. Eccles told Gallerist after the sold-out talk, alluding to the giant Balloon Dog inflatable that he'd installed at last year's fair, as part of its sculpture park. "More is more."
"I think we were sort of surprised that they agreed," he continued. You don't see too many human rights activists or political prisoners at art fairs. "It started out as kind of like, 'Hey! Let's see if we can get Pussy Riot!' But when they actually agreed, I was kind of shocked."
He finished his cigarette. "Maybe I'll go rescue them from the hordes," he said.