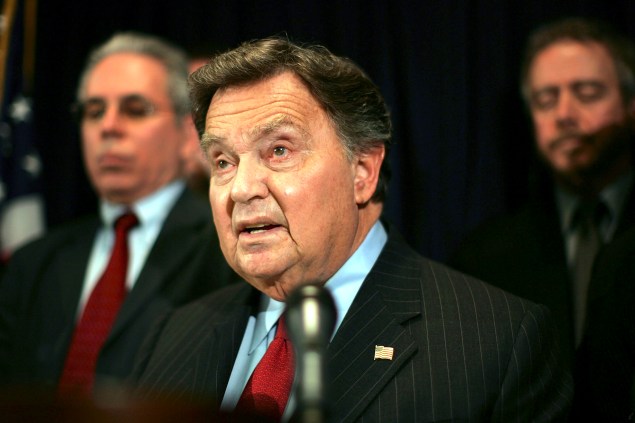 One prominent Queens clergyman is trying to drive his district attorney out of office.
Bishop Charles Norris, an influential southeastern Queens leader, is actively hunting for candidates to defeat incumbent District Attorney Richard Brown, making the case that Mr. Brown's office is out of step with the borough.
"It's time for Richard Brown to get out of the office of Queens district attorney," Mr. Norris told the Observer. "He hasn't been good for our community, the African-American community."
Mr. Norris, who founded Bethesda Missionary Baptist Church, went on to accuse Mr. Brown of failing to hire enough minority assistant district attorneys and said he hasn't been attentive enough to the needs of southeast Queens.
"I've been talking to quite a few people and I'm trying to come up with someone or several people to run against D.A. Brown," Mr. Norris continued, suggesting he'd prefer that Mr. Brown be left off the ballot. "We're going to talk to our district leaders, current elected officials … We're going to get someone to run if he's on the ballot."
Mr. Brown has been the district attorney since 1991 and rarely faces serious challenges. Some Queens Democrats, however, have privately questioned whether Mr. Brown, who is up for re-election next year, will be in strong enough health to seek another four-year term.
No candidates have emerged yet to take on Mr. Brown, despite Mr. Norris' early efforts. The bishop claimed to be in discussion with several judges and lawyers. At least one politician, former Councilman Peter Vallone Jr., is also believed to be interested in eventually running for the seat, sources said–though the self-proclaimed conservative Democrat might not be what Mr. Norris has in mind.
Mr. Norris last made waves when he called on the black community in southeast Queens to unite against a white Jewish candidate, Pesach Osina, running for a predominately minority City Council seat. Mr. Osina lost, but many Jewish voters in the district turned out to vote in spite of Mr. Norris, nearly electing Mr. Osina.
Incumbent district attorneys rarely lose re-election. But in nearby Kings County, veteran District Attorney Charles Hynes was toppled last year by Ken Thompson.
Mr. Brown did not immediately return a request for comment.