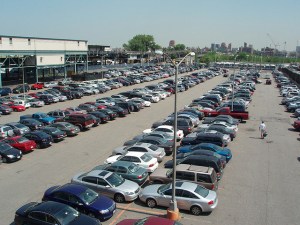 When Darrell Lynch got into an argument with a man after parking his car in a spot on 113th Avenue in Jamaica, Queens, on Monday afternoon, he thought it was just another instance of angry New Yorkers bickering. But when he returned to the spot at 7:30 p.m. that evening, the man was waiting for him with a gun. Mr. Lynch had his own weapon, a .45-caliber handgun, and a gunfight broke out, according to The New York Daily News.
Mr. Lynch was shot in the leg, and the bullet pierced his femoral artery, according to police. When the pain from his injury caused Mr. Lynch to collapse, things got even crazier: his 55-year-old mother, whose name has not been released, grabbed her son's weapon and began firing at the attacker.
The man escaped, seemingly unharmed. Mr. Lynch and his mother attempted to drive away, but Mr. Lynch had lost too much blood and lost consciousness, crashing the vehicle. He was taken to Jamaica Hospital, where he was pronounced dead.
Mr. Lynch's killer is still at large, but his mother has been brought in for questioning. Mr. Lynch has his own criminal record; besides illegally carrying the handgun, he was arrested for reckless endangerment in 2005 and again in 2012 for an undisclosed reason.
This isn't the first time New York has seen a parking dispute turn into a shootout. In January 2012, Miguel Padilla fired at a 13-year-old boy after the two got into an argument over a spot in East Harlem. In 2006, Ricardo Sterling was fatally shot when he pulled out a knife and threatened a man who had swiped his parking space on Flatbush Avenue.
New Jersey, however, takes the cake; in March, Tanya Knight had her finger bitten off after she tried to claim a spot outside the Cherry Hill Mall.