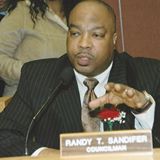 Roselle 3rd Ward Councilman Randy Sandifer died yesterday of a heart attack, leaving behind a grieving community of family, friends and constituents.
A resident of Roselle for 20 years, Mr. Sandifer was a detective with the Jersey City Police Department, a 24-year veteran of the force.
Married to Arlene Sandifer, the couple had four daughers.
Mr. Sandifer coordinated the Roselle Everett Hatcher Municipal Drug & Alcohol Alliance, which funds and operates 13 Roselle programs, including the Borough's D.A.R.E. program, Cops In Schools, National Night Out Against Crime, Camps for Kids, Project Graduation, NJ State Elks Leadership, Red Ribbon Week, Youth Community Education, and various senior citizen activities.
According to the Alternative Press, Mr. Sandifer died surrounded by family at Trinitas Regional Medical Center.
He was a lover of camping, cooking, travel, classic cars and his family.
"It is with deep sympathy that I inform you of the passing of my colleague and running-mate Councilman Randy T. Sandifer," Roselle Mayor Jamel Holley said in a statement. "Randy was an advocate in the re-birth of Roselle's new renaissance and should be commended for his years of public service. Please continue to keep his wife, daughters and family in your prayers. I have expressed to the family those of you who have contacted me already! Your support is appreciated. God bless!"
Throughout the night, friends of the popular and highly respected Mr. Sandifer expressed shock and sadness on Facebook.
"I'm so sorry to hear of Randy's passing," wrote Pamela Steele. "He was a true public servant as both a police office and as councilman for Roselle. It was an honor to work with him ans to be his friend. My deepest condolences to his loving family. May he rest in peace."
"Hits you like a ton of bricks," wrote Ike Durty. If you had the pleasure of knowing this Man U was lucky to know someone great . Condolences to his family may peace be with them for it was and still is a sad day in Roselle."