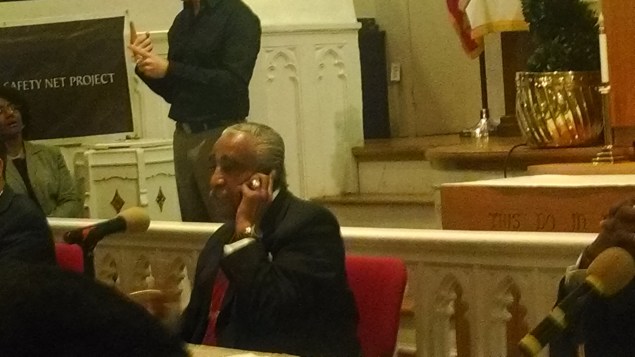 Congressman Charlie Rangel, clearly feeling the effects of his growing vulnerability, went into attack mode this evening, lobbing insults at the two men trying to deny him a 23rd term in their second debate.
In place of his opening statement, Mr. Rangel pulled out his cell phone and proceeded to engage in a mock conversation, using his allotted three minutes to theatrically jab State Senator Adriano Espaillat, who nearly ousted him two years ago in a newly re-drawn district, and Pastor Mike Walrond, an impressive debater, whose backers packed St. Luke A.M.E. Church in Washington Heights.
"Espaillat's already spoken … No, no he didn't say he passed any bills. No, no, no, no, he's been there 18 years, but he didn't say he passed any bills at all," said Mr. Rangel, his phone pressed against his ear, as laughter rang through the church. "What happens was they changed the lines. Yes, it went to the Bronx. Yeah, when he looked at what happened in the Bronx, he thought he could win!"
He then set his sights on Mr. Walrond: "The reverend is here. He hasn't spoken yet … The reverend says that he doesn't know anything about legislation … Listen, how can he register to vote in New York when he lives in Jersey?" said Mr. Rangel–a dig at Mr. Walrdon's old address. "Rev. Sharpton hasn't endorsed him … He's very active at the National Action Network. They liked him. They haven't endorsed him."
The attacks marked a significant shift in the trio's dynamics from their first debate, when Mr. Rangel largely tried to stay above the fray as his opponents piled on. Tonight Mr. Espaillat and Mr. Walrond were ready to fight back.
"Poverty and hunger are not a joking matter. This is a serious matter of substantive discussion that we should be having for all the residents of our district," lectured Mr. Espaillat, an immigrant from the Dominican Republic, whose candidacy is bolstered by demographic trends. The 13th Congressional district, which extends from Harlem through Washington Heights and parts of the Bronx, is now majority Latino.
Mr. Espaillat stressed his own immigrant success story and accused a broken Congress–and Mr. Rangel–of failing to address the needs of the district. He repeatedly tried to paint Mr. Rangel as an out-of-touch Washington insider, at one point declaring, "I know that Congressman Rangel's 30,000 feet in the air with the Washington elite, but I take the subway and the bus everyday and I'm here with this community."
Mr. Walrond, a dynamic preacher whose supporters packed the pews, meanwhile pointed to Mr. Rangel's diminished power since he lost the chairmanship of the Ways and Means committee as part of his punishment for a series of ethical breaches.
"It is about passing legislation, but it's about having people in Congress who can actually begin to gain seniority, so that we can have persons who can represent," he argued.
Mr. Rangel, meanwhile, appeared frustrated as he tried to shift the conversation back to his record.
"Anyone can state the problems eloquently," he said. "We're not praying. We're not just talking. We want to legislate! The Congress is not a praying body, it's a legislative body. The question has to be: What do you intend to do as a priority when you get to Congress?"
"The question has to be: What would you do when you get there? What committees would you take it to? How're you going to get it signed into law, and not how you're barking at the moon wishing that it was something going to happen," he later added. "We're talking about going to the United States House of Representatives. Not wishing, not praying. But going there, passing legislation."
After the debate, Mr. Rangel said that he'd come up with the phone call idea on the fly before the debate and hoped the tactic would help put the spotlight on his opponents.
"I wanted to get these statements out for the press and everyone to check out the facts, not the rhetoric," he said. "These are the questions that people ask me."
"The people in my campaign, they're probably having a hemorrhage," he added.
Still, the Congressman brushed off his shift in tactics, insisting it was not a reflection of larger concerns about the direction of the race.
"I guess the older I get, the better I get. I don't know," he quipped. Asked to assess his odds, he added: "I'm an incumbent. So with me it's just an extension of my contract."
Mr. Walrond, however, offered a different explanation. "I think when people are desperate they do desperate things. And I think taking pot shots and swipes at where I live … I think when you do those things, when you become dishonest … it's a sign of desperation," he said. "I think the Congressman feels the pressure of this campaign."
Watch Mr. Rangel's unusual opening below, captured by New York True:
[vimeo 95351879 w=500 h=281]