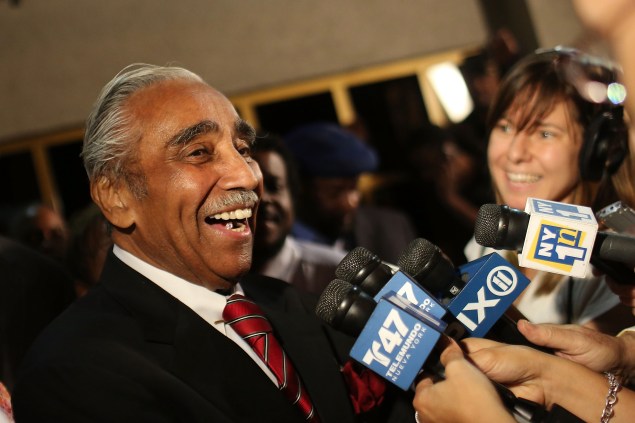 Congressman Charlie Rangel, who is often spoken of as though he is on political life support, remains the front-runner in the race to represent uptown's congressional district, according to a new poll.
Mr. Rangel leads State Senator Adriano Espaillat by nine points, with 41 percent of likely primary voters surveyed going for Mr. Rangel and 32 percent backing Mr. Espaillat, according to the new New York Times/NY1/Siena College survey. Another contender, pastor Michael Walrond, garnered six percent.
Mr. Rangel narrowly won his first match against Mr. Espaillat two years ago in a bitter and oftentimes racially-charged fight for the then-newly redrawn district, which spans from Harlem through Upper Manhattan and sections of the Bronx. Though the district used to be the center of African-American power in the city, it is now majority Latino, and many are pressing for change.
"This race was close two years ago in a low turnout primary and with about a month to go, it looks like the rematch is going to be another closely fought race that comes down to which campaign does a better job of motivating its supporters to vote on the last Tuesday in June," pollster College Steven Greenberg said in a statement released with the numbers.
Just like last time, the electorate is deeply divided along racial lines.
Mr. Espaillat is leading by 27 points among Latinos, while Mr. Rangel is 63 points ahead among black voters, with just five percent of those polled backing the senator. The numbers also show that Mr. Rangel is better known and better liked, with 52 percent of those polled saying they hold a favorable opinion of the congressman, versus 41 percent for Mr. Espaillat.
Mr. Rangel's campaign was quick to tout the numbers, which come a day after an endorsement from the powerful healthcare workers' union, 1199.
"From Norwood to Inwood to Harlem, there is strong, grassroots support for Congressman Rangel's reelection from the voters of the 13th Congressional District," his campaign advisor Charlie King said in a statement. "This poll demonstrates that voters agree that we can't afford to lose the experience, record and seniority Congressman Rangel brings to the table. The people know they can count on Charlie Rangel to be a champion in Washington to continue fighting for good jobs, better wages, and health care access for the families of this district – and that's why he is earning their support once again."
Mr. Espaillat's backer also pointed to the poll's methodology, alleging an under-representation of Latino residents and Spanish speakers. In 2012, internal polling showed Mr. Espaillat's campaign down by 22 percent, according to one campaign source–but he ended up coming within 1,100 votes of winning.
"For an incumbent with 42 years in office to be polling at 42 percent is a clear message – his days in office are numbered. This race is a virtual tie today and Adriano has nowhere to go but up. The 13th district is ready for change and we're confident that our broad coalition of support will bring us victory on Election day," Espaillat spokeswoman Chelsea Connor said.

Mr. Greenberg said the race would likely come down to the wire and depend on each candidates' ability to turn out his base.
"In business it often comes down to 'location, location, location.' But in this race it is likely to come down to 'turnout, turnout, turnout,'" he said. "Grab the popcorn; this is going to be a fun race to watch."
Read the full results below:
[protected-iframe id="fccdae2e72293632a3daaa1a62914e6a-35584880-49119065″ info="//www.scribd.com/embeds/225530083/content?start_page=1&view_mode=scroll&show_recommendations=true" width="100%" height="600″ frameborder="0″ scrolling="no"]