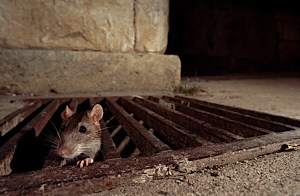 Mayor Bill de Blasio has a new title: the Verminator.
Launching an offensive against New York's "rat reservoirs," the mayor upped the Health Department's budget $610,000 to fund a new nine-person investigative team.
From Manhattan to the Bronx, the nine-person "rat squad" will target pockets of high rat residency like parks, sewers, and subways that, for the most part, are already located on the city's Rat Informational Portal (R.I.P. Good one, NYC).
"These are large collections of rat colonies where they reproduce, where they have access to water, where they have access to food," Bassett said, according to the New York Daily News. "That's the origin of the pest problem."
The Ratmageddon is not NYC's first attempt to curb the rodent problem. Last year, the MTA fed rats birth control and took away trash cans to no avail.
May the odds be ever in your favor, rat squad.