"SUDDEN FEAR." "THE FUTURE IS STUPID." "DON'T COMPLAIN."
Text art is everywhere at this year's edition of Frieze New York, and some phrases leapt out, capturing the buzzing marketplace of the tent with varying degrees of irony and devastating accuracy.
Gagosian Gallery has adorned its large, airy booth with small paintings by Ed Ruscha containing phrases such as "sour twist" and "service clown." This last one, aside from evoking a rodeo, had a strange personal resonance, as accosting dealers who'd rather be talking to collectors can make even the pluckiest journalist question what exactly she is doing. The modestly sized works were each priced at $175,000 and the booth was sold out within the first hour of the VIP preview.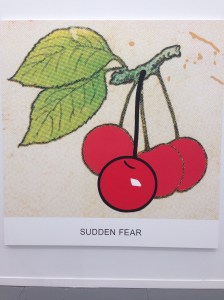 At Sprüth Magers, a large photographic enlargement of the dictionary definition of language by Joseph Kosuth was available for $140,000. On the outside wall of the booth, a giant image of cherries against a Ben Day dot background emblazoned with the words "sudden fear," by John Baldessari, could be yours for $400,000.
Koki Tanaka's commissioned Frieze Project consists of bringing members of the Randall's Island community into the fair, and long metal panels on the floor of one interior clearing stated who will be coming. "May 9: A poet is rewriting Samuel Greenberg's poems, as Hart Crane did in 1924." Hmm. A look around the picnic tables and no poet, though there was an art advisor walking her client, wearing an aubergine suit, through some iPad pictures at one table. A sign hanging on another, probably not intended to be word art, nonetheless read: "Property of parks department. Please do not touch." A woman in treacherous heels plopped down and began texting.
Things got dark at the booth of Spain's Espaivisor gallery. Large works by Sanja Ivekovic with a big debt to Barbara Kruger superimposed women's accounts of domestic violence and sexual abuse on top of sunglass ads. Each one bore a woman's name, her nationality (mostly Serbian, Croatian and Turkish), her marital status and number of children. "And with those poor girls in Nigeria…" said one well-heeled woman to her friend, referring to the recent mass kidnapping, as she took them in.
Over at Galerie Thaddeus Ropac, a smattering of found wooden and metal sign letters spelled out "don't complain" on an outside wall.  The artist, Jack Pierson, reportedly chose the piece (priced at $225,000) for the booth at the last moment before the fair.
"A lot of people may complain, and he's telling them not to," said a dealer seated inside the booth. "There are bigger problems in the world than maybe the people here have."
At Cheim & Read's booth, where a marble Jenny Holzer piece read "The future is stupid," another Jack Pierson wall work stated "All this could be yours."
Perhaps there's another, somewhere in this maze, screaming "for a price."