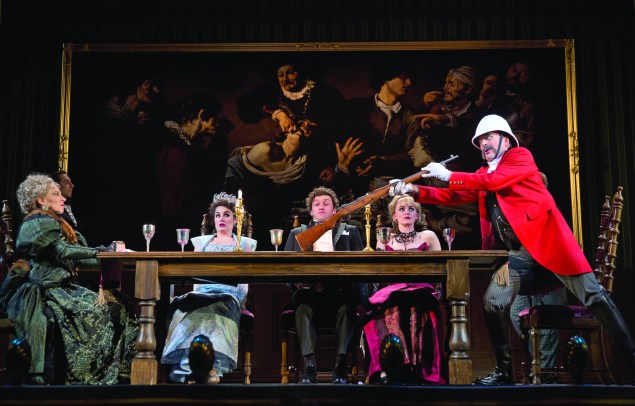 In the lead-up to this year's Tony Awards, to be broadcast by CBS from Radio City Music Hall on June 8, the consensus among theater prognosticators is that there is no consensus.
The most prominent category, and arguably the only ticket-selling one—Best Musical—has four nominees, each one a plausible winner but none by any means a shoe-in. Among the five nominees for best play, there are at least two strong contenders. If Best Revival of a Musical is a lock—my esteemed colleague Rex Reed may have been the only person in New York not to adore Neil Patrick Harris' turn in Hedwig and the Angry Inch—Best Revival of a Play remains a category very much in contention, as do all the acting awards, except one. (See, above, Mr. Harris.)
But that doesn't mean there aren't some front-runners. Let's take a stroll down the Rialto, shall we?
Best Musical
The most deserving nominee is A Gentleman's Guide to Love and Murder, a clever, tuneful, funny murder musical, brilliantly acted and staged, and so far the winner of Best Musical awards from the Outer Critics Circle and the Drama League. But don't count out Aladdin, a competent show that earned appreciative reviews—and one that carries the kind of built-in brand recognition out-of-town producers, a big Tonys voting bloc, would love to see touring to their cities. As for the other nominees, After Midnight, the Duke Ellington-inspired Cotton Club revue, is a great night at the theater, with unmatchable dancing. But it's not a book show, which leaves it feeling a bit light for Broadway's biggest award. And Beautiful—The Carole King Musical, has a great cast, sounds terrific and leaves audiences happy. But it's still a clunky, schematic bioplay.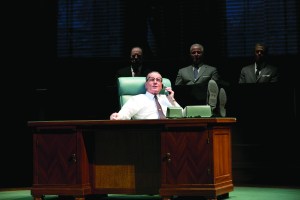 Best Play
The L.B.J. bioplay, All The Way, has won Best Play awards from the New York Drama Critics' Circle, the Outer Critics Circle and the Drama League. It also features a lip-smacking, show-carrying performance from Bryan Cranston. Plus, it's a good play, by Robert Schenkkan, with good reviews, which strongly suggests that it will win the category. But don't overlook Harvey Fierstein's midcentury-transvestites melodrama, Casa Valentina, which, despite a flawed second act, feels bracingly current despite its historical setting and benefits mightily from gorgeous performances and direction (by Joe Mantello). The other three nominees—James Lapine's Act One, a Moss Hart bioplay; Terrence McNally's Mothers & Sons, which tries but fails to update a 1980 AIDS play for a same-sex-marriage era; and John Patrick Shanley's charming, whimsical Outside Mullingar—are worthy entrants but without much excitement surrounding them.
Best Revival of a Musical
This is the easiest pick of the night. The first Broadway staging of John Cameron Mitchell and Stephen Trask's Hedwig and the Angry Inch is a rollicking, raunchy delight, and audiences are adoring it. Its competition just can't compete: Les Misérables, even sans synthesizers and turntables, remains that old warhorse Les Miz, and Violet, while well received, remains an acquired taste.
Best Revival of a Play
Of all the show categories, this one is the most genuinely competitive, with a strong case to be made for each of the four nominees. In the fall, the consensus was that John Tiffany's take on The Glass Menagerie—a revelatory staging of the classic work, with four superlative performances—had Best Revival locked up. Since then, though, there have been the beloved repertory productions from Shakespeare's Globe, of which Twelfth Night was nominated, plus a too-old but still fierce Denzel Washington in A Raisin in the Sun and an excellent Daniel Radcliffe in an excellent Cripple of Inishmaan revival. That neither Messrs. Washington nor Radcliffe earned a Best Actor nomination suggests less than overflowing Tony love for their shows; indeed, I think The Glass Menagerie is still the most likely winner—it's the first time this much-revived classic has scored a Tony nomination, even; why not make it a first win, too?—with Twelfth Night as the dark horse.
Best Leading Actress in a Play
For a while, it looked like Cherry Jones, Amanda Wingfield in The Glass Menagerie, was a good bet for Best Actress. But then came the fall and the unexpected announcement of Audra MacDonald in Lady Day at Emerson's Bar and Grill. And then Tyne Daly's outstanding performance in the otherwise mediocre Mothers & Sons. And LaTanya Richardson Jackson, stolid and grounding in A Raisin in the Sun. And the race was wide open. (Estelle Parsons, in the largely forgettable The Velocity of Autumn, is the fifth nominee.) Ms. McDonald already has five Tony Awards; this could well be her sixth. She, Mses. Jones and Daly are equally deserving.
Best Leading Actor in a Play
There's plenty of meritorious work here—Samuel Barnett in Twelfth Night, Chris O'Dowd in Of Mice and Men, Mark Rylance in Richard III and Tony Shalhoub in Act One are the other nominees, and all excellent—but this award is going to Mr. Cranston. Nothing makes Broadway happy like a Left Coast success coming to the Great White Way to prove his chops. It doesn't hurt that he carries the show and that he's good.
Best Leading Actress in a Musical
Any one of the five nominees in this category would be a credible winner. Some have argued for Kelli O'Hara; she's fantastic in The Bridges of Madison County, and she has been nominated for four previous Tonys without winning. But her show wasn't a success, and she's scheduled to be back next season, in The King and I. Look for Beautiful's Jessie Mueller, an immense talent who has never had an ideal vehicle before and who elevates what could be a rote show into something much more, to take home the Tony.
Best Leading Actor in a Musical
Sure, the multitalented Jefferson Mays and the charming Bryce Pinkham put over the murderous lark that is A Gentleman's Guide to Love and Murder. (Mr. Mays, who plays all the murderees, would win this category in any other year.) And, yes, Andy Karl brings a real-guy center to the spectacle that is Rocky, while Ramin Karimloo, in Les Misérables, is a vibrant Valjean. But Neil Patrick Harris—a TV star now returned to Broadway; a beloved Tony Awards host; an astonishingly good, leave-it-all-on-the-stage quasi-transgendered East German chanteuse—has this one locked up. ν