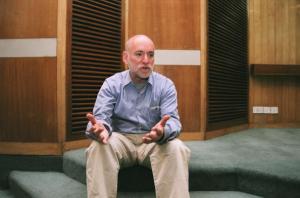 Architect, urban thinker and consummate New Yorker Frederic Schwartz died following a long battle with cancer this past week. He was 63.
The man and the brains behind numerous 9/11 memorials, Mr. Schwartz's more recent projects included the Whitehall Terminal in Lower Manhattan, four airports in India and work in Haiti and New Orleans as those regions recovered from disaster, a close associate said.
Not fame-hungry but nonetheless driven, Mr. Schwartz is perhaps most remembered as the winner of a Lower Manhattan Development Corporation contest to fill the space vacated by the Twin Towers.
His group, which he dubbed THINK, included Rafael Viñoly and recent Pritzker Prize-winner Shigeru Ban. Their design—two hollow towers, a sort of shell of the fallen buildings, but filled with green space and a performing arts center–was hailed as creating an "iconic and bold new skyline for the twenty-first century," by the LMDC. But then-Governor George Pataki thought the design morbid, declaring that "there's no goddamn way I'm going to build those skeletons," as the New York Times reported in their obituary on Mr. Schwartz.
Mr. Schwartz was deeply upset by Pataki's decision to scrap his plans in favor of what eventually grew at Ground Zero—a reflecting pool, several new office towers and a shopping center, which all arrived years late and over budget. But Mr. Schwartz rebounded, designing a 9/11 memorial "Empty Sky" in Jersey City and "The Rising" in Westchester County. Both won awards.
What defined his work, his best friend and former college roommate Robert Magnuson said, was his interest in space people would use and have experiences in.
"He really loved Americana," Mr. Magnuson said, recalling long hours spent on car rides while Mr. Schwartz was working on his master's at Harvard University, rummaging through garage sales and in small town restaurants, where Mr. Schwartz connected with everyone he met.
"The thing about architects is they have big egos. He had a big ego," Mr. Magnuson said of his departed friend. "You don't have that kind of creative genius without having a strong ego behind it, but it was always about architecture for the people, the community, the city. It wasn't about personal achievement for Fred."
Indeed, when another ambitious project, called Westway, which would have covered the Westside Highway with parkland, was abandoned in 1985, Mr. Schwartz's chief complaint was that "a generation of children is missing a place to play."
Born in Queens, Mr. Schwartz attended University of California, Berkeley starting in 1969. At the time, he looked more California than any natives, with red hair down to his waist and a beard to match, Mr. Magnuson said. However, he was clearly drawn back to New York City after graduate school at Harvard University. "It was always about New York," Mr. Magnuson said. He behaved differently in his home city—he had more passion.
Even in the Big Apple, Mr. Schwartz's interests were varied and often based in outreach more than the skyline-smashing triumphs his peers often sought. His work on massive undertakings such as the Chennai Airport and the ferry terminal were tempered by smaller renovation and restoration projects.
Well after his cancer had been diagnosed, he went on a mission to preserve the work of an early colleague, Robert Venturi. The Lieb house, originally a structure in Barnegat Light, N.J. is considered the first Pop Art home. In pale yellow and grey with a nonsensical number "9" on the front, the house was historic, if controversial, arriving in 1969 at the height of Andy Warhol fever. (The neighbors stopped speaking to the inhabitants who commissioned it, Judith and Nathaniel Lieb, once it was complete, but it had become an iconic addition to the Jersey Shore).
In 2009, a developer announced plans to tear down the beachfront home to build anew. So Mr. Schwartz teamed up with Jim Venturi, son of the architect, to arrange to move the house—via truck and ferry—to Glen Cove, Long Island, where it's now a guest home. The trip was memorialized in a 2010 documentary called "Saving Lieb House."
And even after many years suffering from metastic prostate cancer, the architect flew around the world thinking about new projects, Mr. Magnuson said. "He traveled very recently in Africa and India. He was so passionate about his projects… he just kept doing them."
Mr. Schwartz is survived by his wife, Tracey Hummer; his mother, Charlotte Schwartz; and a sister, Barbara S. Glicksman.