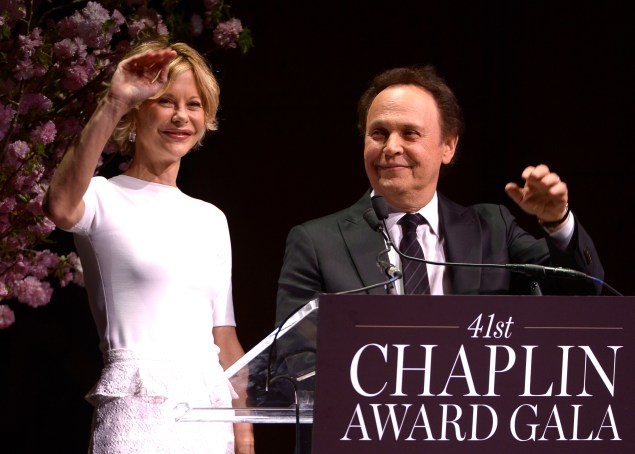 "I'm excited to be with my family tonight," Rob Reiner effused on his way to receiving the 41st annual Chaplin Award Gala at Alice Tully Hall last week. "As I've gotten older, I've realized that if I have any time to spend, I want it to be with my family."
Speaking of family, the prying media wanted to know his reactions to the seemingly "consciously recoupled" Catherine Zeta-Jones and Michael Douglas, both present for the soirée. Mr. Douglas co-stars alongside Diane Keaton in Mr. Reiner's upcoming film, And So It Goes, which hits theaters July 11.
"I talked to Michael earlier today," Mr. Reiner divulged. "They went through some rough stuff, but they seem to be doing good."
Meg Ryan and Billy Crystal were also present at the event, their presence onstage inevitably recalling Mr. Reiner's 1989 comedy,When Harry Met Sally...
"For those of you who have waited 25 years for a sequel, this is it!" said Mr. Crystal.
"Sometimes, people want to know what happened to Harry and Sally," Ms. Ryan chirped. "I think they're O.K. They're New Yorkers."
"Harry is still a political consultant," replied her co-star. "He works for Mayor de Blasio. It was Harry who walked into Mayor de Blasio's office one day and said, 'I just stepped in a pile of horse shit! Would you do something?'"
---

10
The most Tony nominations for a production: A Gentleman's Guide to Love & Murder

$3.45M
Estimated amount Rob and Michele Reiner have contributed to political activism

---
Many of Mr. Reiner's friends spoke of his campaigning for same-sex marriage.
"Rob, I'm so proud of you," Mr. Douglas proclaimed, comparing him to President Andrew Shepherd, his character from the film The American President. "Truly a man of incredible character, tremendous talent and a passion for making a difference in the lives of others. Yours has not just been a movie career but a life of changing the world for the better."
Mr. Scorsese presented Mr. Reiner with his trophy.
"You want to hold this, Marty? It's a little taller than you," Mr. Reiner asked. "I was so happy when Marty called me to do The Wolf of Wall Street. But I thought, let's see, which is more unbelievable: that Leonardo DiCaprio is a Jew or that I'm his father! Maybe I'm better looking than I think I am."
Of course, much of last week's focus was on the announcement of the 2014 Tony nominations. Nine-time Tony-winner Tommy Tune hosted an event for the cast and crew of After Midnight (nominated for seven awards) at his sprawling Sutton Place penthouse, exclaiming, "I love this show!  I've seen it three times, and selfishly I just wanted to meet everybody. I wanted their vibe in my house!"
"We are so gracious and grateful," said the musical's star, Dulé Hill, who led a prayer circle with Vanessa Williams. "Thank you, thank you!"
Anika Noni Rose, nominated for A Raisin in the Sun, expressed elation as well the follow morning at a press breakfast at the Paramount Hotel. "It's thrilling!" she gushed. "I'm very excited."
James Monroe Iglehart, who plays the Genie in Aladdin, also spoke with Shindigger.
"It's a dream come true," he raved, noting that in 2010, when he attended the Tonys as a lead in Memphis, he was in the audience. "This time they're going to give me an actual seat!"