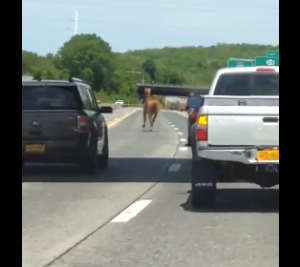 A sleek brown horse, bounding down a trail, underneath the shining sun sounds like a picturesque vision of Memorial Day.
Unless that "trail" is a busy highway.
Drivers on Westchester's I-684 called 911 on Monday to report a horse casually galloping along the highway. The brown beauty had high-tailed it out of an equestrian event at Bedford's John Jay Homestead and opted for the quickest route of escape possible, reported lohud.com.
In videos of the wild ride, the horse can be seen meandering on the open road without a care in the world. And after jumping the median, the horse proceeded to pull an Alec Baldwin and galloped the wrong way down the shoulder of the highway.
Any potential accidents or major injuries were averted, thanks to a group trainers who rescued the runaway horse from the roadside.
Ashley Yozzo, owner of Summit Farms in North Salem, loaded the pony into her trailer and return it to its owner with just a few small cuts.
Larry Hollander, who shot the below videos, recounted to lohud.com: "911 was almost as shocked as we were. They said 'A horse? Are you sure it's a horse?'" A horse is a horse, of course.