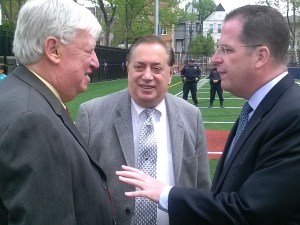 UNION CITY – He wanted to get this done quickly and cleanly and did.
Up for re-election in 2015 with HCDO casualties all around, if incumbent Hudson County Executive Tom DeGise could get longtime North Hudson enemies state Sen. Nick Sacco (D-32) and state Sen. Brian P. Stack (D-33) onstage together, Freeholder Bill O'Dea would suddenly find himself deprived of political oxygen.
"You pray for peace and prepare for war," said DeGise, steps from his Jersey City Heights home on the Union City side of the border, with Stack and Sacco onstage.
"We're trying to show strength," he added.
The two biggest machine mayors in the State of New Jersey, the two rival power brokers who a year ago came together in the name of peace in a deal brokered by the now vulnerable Bayonne Mayor Mark Smith, a former HCDO chairman – add up to about 23,000 bankable votes.
The appearance of the two men affirming DeGise was crafted to make O'Dea surrender- – or at the very least give would-be allies like Jersey City Mayor Steve Fulop, the leader of last year's Hudson revolution, which took out DeGise's HCDO ally Mayor Jerry Healy, the ability to convincingly say, "We can't win this time, Billy."
The three politicians took about three minutes apiece to heap praise on one another.
"Look at this turf field," Sacco marveled. "Sen. Stack did an absolutely wonderful job."
Stack took time in his endorsement of DeGise and DeGise's entire slate – to praise a man who in years past has been little more than collateral damage in Stack's civil war with Sacco.
"I can pick up the phone and call him anytime," said Stack of DegIse.
Some of those phone calls in the past left the county executive with his ears ringing.
But today it was all sweetness and light.
"We make it work," said Stack. "So many great things happen because a county executive makes himself accessible."
DeGise was practically speechless.
"Wow," he gaped. "Two of the most powerful and popular mayors in the State of New Jersey send a message."