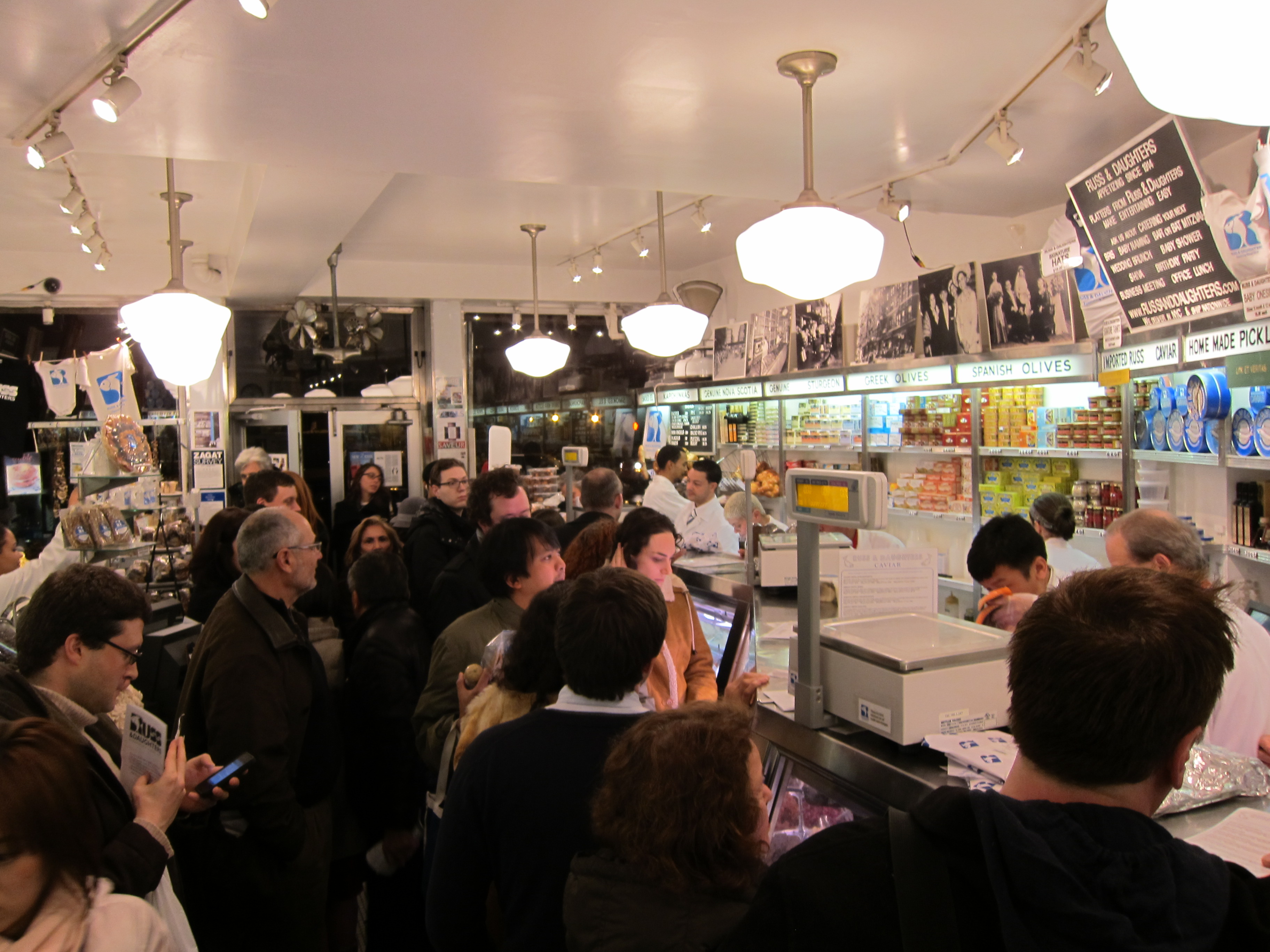 Would you like a side of gold with that?
Russ and Daughters, the traditional appetizing store specializing in smoked fish and caviar since 1914, opened up a café a couple of blocks down from the mother ship just two weeks ago.
While the initial reviews of the Lower East Side eatery have praised the modern yet retro décor, the vintage pictures that serve as homage to the original store, and the possibility to actually sit down and enjoy lox and bagels, there has also been quite a controversy regarding its pricy menu.
"I don't mind paying top dollar for quality smoked fish, but it really is obscene, or more aptly put, a lot of chutzpah, to charge $7 for an egg cream!" David Z. wrote on the restaurant's Yelp page. "Yes, the nova was great, but as I ate, I could not help but feel like I was being taken advantage of…"
One of the most striking features of the menu is the $180 scrambled eggs, which come with challah.
Eater's Ryan Sutton had a similar reaction when he made his way to the fish mecca. He ordered 50 grams of transmontanus roe, the cheapest option of their high-end products (only two other caviar choices ring in at $105 and $115 respectively) and while the product was gorgeous, well presented and scrumptious (except for the bland blinis), the bill came out to $175. Mr. Sutton explained:
That's a lot of money, even for caviar. The same amount of the same roe is priced $55 lower in the Russ & Daughters retail store; the roe is also significantly more expensive than the entry-level sturgeon caviar at Le Bernardin ($140) or Marea ($110), Costata ($100), or The Dutch ($95).
And while Mr. Sutton said he preferred to spend those bucks at a cool LES joint rather that at fancy, stiff restaurants in Midtown, it did surprise him that the price at the casual, no-tie-needed cafe was so much higher, even if the portion is bigger. At these prices, it's almost easier to buy caviar next door and take it home.
Who knew brunch on the Lower East Side could be so sofishticated?