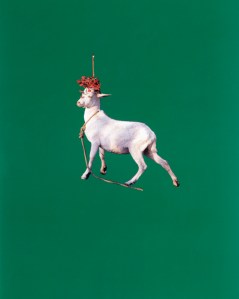 In the mid-1980s, the late Sarah Charlesworth scoured found print sources for images of statuary, clothing, amulets, bowls, tigers, columns, giant bronze Buddhas, and other slippery bundles of half-conscious mental urges; cut them out; rephotographed them against rich monochrome backgrounds; and printed them as a series called Objects of Desire. Despite the typological organization, these icons are resolutely non-systematic—like pagan gods in smoky niches dense with double meanings and contradictions. Each one is obscured by the cloud of its formal epithets and ambiguous variant names.
The studded, black leather Harness, for example, floating against a thick but directionless field of menacingly sexy red, is three-dimensional in its shadowing but lost its reverse half along with its original context to Charlesworth's X-acto knife. What can a mask mean when no one's wearing it? T-Shirt, Red Scarf, and Figures, which has a white dress against black and what looks like a white silk shroud against red, likewise offers membrane-thin transmissions of the persons that could have been in them but aren't. Which gives form to what—the body or the mind?
Birdwoman, in which a white burqa floats over ballooning pink pants and slippers, and Black Woman, a barely dressed figure caught in the act of dancing or running, her right leg bent almost double, show how completely the social can colonize the individual, and how fraught it is even to point that out; the light blue window above the burqa, just big enough for a flying albatross carrying branches in its bill, suggests that there may be more freedom in embracing and losing yourself in the burdens that will, in any case, continue to hang from your neck. My own favorite work here, Goat, shows a trotting white unicorn goat with a garland of red flowers and a rope around its neck against a background of royal green.
(Through June 14, 2014)

Update, June 18: The closing date has been updated at the request of the gallery, which closed the show before its original end date.