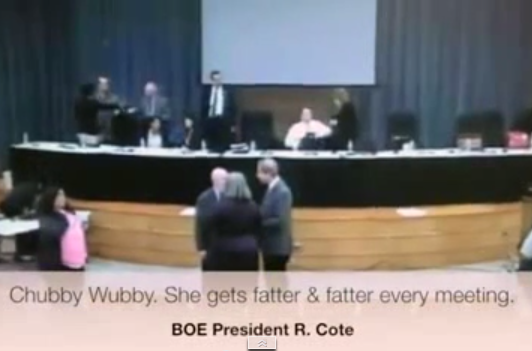 What was he thinking?
A Putnam county school board president resigned after making offensive comments regarding a PTA volunteer's weight, Gothamist reports
At the April 8 meeting, a hot mic caught Mahopac Board of Education president Ray Cote referring to a parent as "chubby wubby," adding, "she gets fatter at every meeting. She really does."
He came under fire after local resident Deena Bell caught wind of the rude remarks while watching the meeting on the district's live feed.  She posted the incident on YouTube.
Mr. Cote resigned and released the following statement:
"I would like to apologize for my choice of words after the close of the board meeting on April 8, 2014, which are regretful. My words were inappropriate and do not reflect my feelings or attitudes. I will strive to regain the trust and respect of the community."
Mr. Cote, who has served as board president since 2011, also withdrew from the race for reelection.
The ballads with his name have already been printed and will be used in the election anyway, lohud reports.
Here's the tainted leader delivering his final blow:
[youtube=http://www.youtube.com/watch?v=tCVotPH-HwM&w=560&h=315]