It seems fitting that the actor Hank Azaria, who has made his name mostly on The Simpsons—giving voice to Moe Szyslak, Chief Wiggum, Apu Nahasapeemapetilon and others—operates under the auspices of a trust, off-screen as it were, when it comes to real estate. But Mr. Azaria, who earns roughly $300,000 an episode, has no compelling cause to be modest. And the Henry Albert Azaria Trust, which just bought up a $9.2 million co-op at 75 Central Park West, does not make for a particularly secretive costume. 
About a year ago, Mr. Azaria sold off another co-op at 84 Mercer Street for $8 million, and though The Simpsons, now 25 seasons old, shows no sign of maturing, Mr. Azaria's taste in accommodations have. (He told us recently that the Dakota is his favorite New York building and, Mr. Azaria was renting with his family on 80th Street after dropping his place in Soho.) A 1928 building of Candela design, 75 CPW offers easy commutes to Lincoln Center, the Museum of Natural History and, of course, the Park, views of which are plentiful from Mr. Azaria's new three-bedroom pad. (Sixty-three feet of frontage, for those of you keeping a tally at home.) There are built-ins, picture windows, wood-burning fireplaces and direct elevator service, "a rare and desirable amenity," in the estimation of listing broker Valerie Artzt, of Stribling.
Decorated by previous owners Joan and Howard Baron with waterfowl-themed art, rich Oriental rugs and the antlers of exotic game, the apartment does not look much like the lair of a Groening protege. But as Ms. Artzt notes in the listing, options to customize the space are many. And Mr. Azaria must have been convinced—he was planning last summer to stay in the 80th Street rental for two years before deciding on whether to make his permanent home in Manhattan, Los Angeles or Westchester (shudder).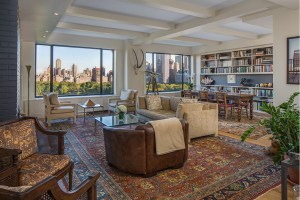 We've even heard that upon entering the property, the actor spontaneously reprised a ditty by his much put-upon convenience store owner Apu: "Whether igloo, hut, or geodesic dome there's no structure that I've been to that I'd rather call my home."
Just kidding. We didn't hear that.