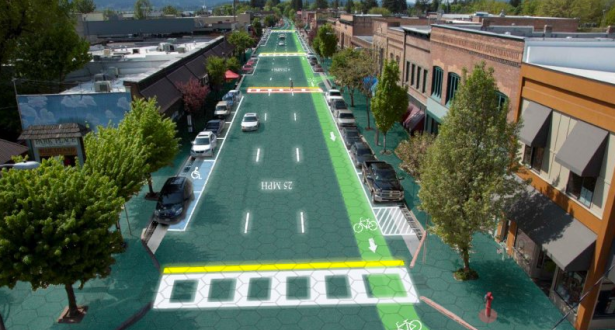 The dream of solar roadways — whole roads, driveways and parking lots replaced by light-up solar panels — has been talked about for years as just a pipe-dream for utopian futurists. That is until yesterday, when the quixotic Solar Roadways Indiegogo campaign reached its goal of $1 million in funding.
The company already has working prototypes, but the project will help them manufacture tons of panels and start testing them out on a wider scale. The proposed hexagonal panels stay slightly heated to melt snow and eliminate the need for salting and plowing, and light up with guidelines to eliminate the need for repainting. The working prototypes are made of largely recycled glass and generate enough energy to pay for themselves over a period of many years.
The cool factor for Solar Roadways is very strong, but there's still a long way to go before we see implementation of Solar Roadways at scale. There's still further testing, industrial manufacturing, and, not least of all, price. Rough estimates based on manufacturing costs put the price tag on a potential national project well into the trillions.
But the project has seen support from bigger players than just the generous masses on the Internet. The U.S. Federal Highway Administration has helped Solar Roadways through two rounds of funding to help build prototypes and pilots projects, and Google has selected Solar Roadways for its Moonshots program. You could do worse than having institutional support from Google and the U.S. Government.
The funding keeps rolling in, and at time of writing is approaching $1.24 million total. Even if the Earth won't be covered with electricity-generating panels for a long time, it's nice to see crowd funding be used for something other than to give multimillion dollar companies even more capital.
[youtube http://www.youtube.com/watch?v=qlTA3rnpgzU]