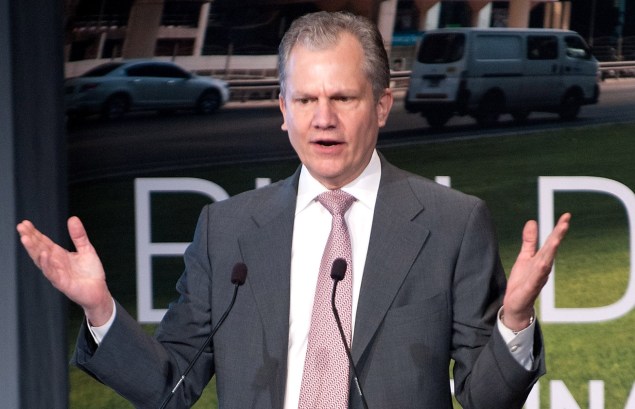 Arthur Sulzberger, Jr., and Jill Abramson never got along. At least not according to a long-time New York Times insider who knows the publisher well and witnessed firsthand the ascent of Ms. Abramson as the paper of record's first female editor.
Wednesday's sudden firing of Ms. Abramson shocked the media world. But according to the source, who has worked on the business side of the Times for years and spoke at length to the Observer but declined to be identified, "The only thing that's surprising about this is what took so long."
"Even when she was managing editor, Arthur and Jill never got along. In mid 2010, Jill and Arthur had a big blowup. Jill told Janet [Robinson, the then-president and CEO of the New York Times Company] that she was sick of Arthur's bullshit and was going to resign. She had had it with Arthur and had decided to go teach at Harvard."
So perhaps it was surprising that Ms. Abramson was in the mix for the top job just a year later, in June 2011, when Bill Keller announced that he would be stepping down following a highly regarded run in which he restored the paper's luster following the Jayson Blair fabulism scandal.
According to the source, "Arthur decided the two candidates were Jill and Dean Baquet, and he was going to poll the executive management and executive editors about who should be the next editor. The news editors really wanted Dean and thought he was the right person. On the business side, a couple of people wanted Dean, but most wanted Jill, and the reason for that is because there was concern that Dean would pull the same stunt at The New York Times that he had pulled at the Los Angeles Times. The senior executive management at the time knew there might be some tough times coming."
What stunt was that?
"When Dean was at the L.A. Times, he told the Tribune management, 'I'm not going to lay people off at the L.A. Times, and I quit.' He became a hero to journalists, but the business-side people don't like that kind of grandstanding and need someone who understands business and understands that sometimes difficult decisions have to be made."
"There was a lot of lobbying of Arthur, and it took him a month to make the decision. And when he finally did, it wasn't like a total 100 percent endorsement of Jill. It was like 51-49; she got the job. And after he selected her, he was still somewhat unsure. The pay disparity thing is bullshit. But Arthur traditionally has a very combative relationship with the executive editor generally. Every editor who has come to The New York Times who reports to him does not respect Arthur. And Arthur knows that."
However contentious and drawn out the process of choosing Ms. Abramson, once she got the call, there was widespread excitement throughout the Times about the opportunity her leadership presented. Several marketing executives agreed that the historic nature of Ms. Abramson's ascension would attract positive story lines, especially among female readers and younger readers—key demographics for advertisers.
A plan was hatched to capitalize on Ms. Abramson's appeal, including giving The New Yorker's Ken Auletta an exclusive behind-the-scenes look and a long valentine in More magazine that loved up the "tattooed, tough-talking, Gatsby-loving mother of two who's not just reporting history but making it." In the lengthy profile, Ms. Abramson is revealed to have "domesticated her office with a Persian rug and a plush couch."
The charm offensive seemed to be working; buzz was strong, and the Times' new paywall, launched in March 2011, was exceeding expectations. But all was not well within the publisher's suite. According to the source, "After a couple months of all this marketing, Sulzberger was having enough of it. Too much 'look at me.' So she stopped doing magazine interviews and all that. Arthur does not like for his journalists to raise their own brand profile. It's one thing for Nick Kristof or an editorial page [writer]. He tolerates that. But if you work for him, he doesn't like that."
The source said that even as Ms. Abramson pulled back on granting interviews, her profile continued to grow—and continued to annoy Mr. Sulzberger.
"What Jill was doing was going to Silicon Valley and hanging out with Sheryl Sandberg at her house and doing all this lean-in stuff and hanging out with Arianna Huffington and going to fashion shows and being photographed and 'being Jill Abramson.' It rubbed Arthur the wrong way. And it rubbed the newsroom the wrong way, because they didn't think the editor of the Times should be cozying up to someone that the Times aggressively reports on like Facebook. You'd see her at the White House at state dinners as a guest of the president, and it raised red flags. You see her doing interviews on NPR with Alec Baldwin about 'being Jill Abramson,' and it just rubbed people the wrong way."
The tension didn't end there. Referring to the new Times Co. CEO, British import Mark Thompson from the BBC, who replaced Janet Robinson, the source said, "Another problem was the whole Mark Thompson rivalry: What did he know and not know about the Jimmy Savile molestation allegations? Jill unleashed her top investigative editor and gave him a blank check to find out. You gotta remember that Sulzberger dumped Janet Robinson, gave her $24 million to walk away, spent a large amount of internal political capital on this. And Mark was his bet on the future, and all of a sudden Jill sends her takedown artist Matt Purdy to London to take him down. You knew the Times was not playing games."
Regarding this characterization of Ms. Robinson's departure, Times spokesperson Eileen Murphy told the Observer, "Janet retired from The New York Times Company effective December 31, 2011, after serving as CEO for seven years and a 28-year tenure with the Company. The majority of Janet Robinson's retirement package was earned and accrued during that  28-year career with the Company, and she would have received this compensation regardless of when she retired."
Joe Lapointe, who covered sports at the Times for 20 years before taking a buyout and still cares deeply about an institution he admires, shared this comment: "When the most recent Pulitzer Prizes were announced, I told my students I had an ominous feeling about the Times. Although it won two for photography, it won none for writing and reporting. 'This does not bode well for top editors there,' I told my students. I can't help but wonder if this was one of many factors in Jill Abramson's abrupt sacking."
Mr. Lapointe told the Observer, "Since the summer of 2001, the Times has had, as executive editors, Joe Lelyveld, Howell Raines, Bill Keller, Jill Abramson and, now, Dean Baquet. If a sports franchise had this much turnover at the top, sports reporters would harshly question the judgment of ownership. This firing and the Raines resignation in 2003 are the journalistic equivalents of Nixon's resignation and Clinton's impeachment. It's more than 'inside baseball' for journalists.  It tells us where we're going as a culture."
Asked for an opinion on whether there's any truth to the notion that Ms. Abramson had been discriminated against because of her sex, either in the form of pay inequality or in "gendered code words" like "bossy," the business-side source said, "I read the pay disparity stuff, and it's all a lot of bullshit. There was no tipping point or some big catalyst. I think Arthur was scheming to get rid of her for months."
The source thought for a bit and continued.
"I don't know if Arthur Sulzberger is a misogynist. Jill really is an abrasive character, and she has this disapproving look all the time. But the thing about Jill is that Arthur knew exactly what he was getting before he hired her. And consider this: He fired Janet Robinson, point blank, first woman CEO of the New York Times Company. He fires the first woman editor of The New York Times, point blank, out the door. He fired Carla Robbins, who was the deputy editor of the editorial page. It's not like Arthur said, 'Hey, we're gonna eliminate your job, and you have a month or two to leave.' It's like, 'Goodbye, go home.' You don't treat people who have done nothing wrong like that. Even when Howell was fired, he had his wife there and gave a big goodbye speech to everyone."
This story has been updated to include a response from the New York Times spokesperson.