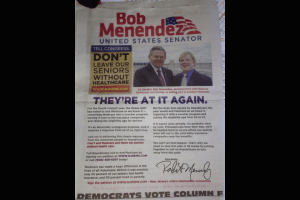 RAHWAY – A Democratic source has told PolitickerNJ.com that the use of a photo of Rahway mayoral candidate Jim Devine with U.S. Sen. Bob Menendez (D-NJ) juxtaposed with the senator's campaign logo has left some Union County Democrats and other statewide Dems perturbed.
"Devine put his photo up there with Menendez, right next to Bob's campaign logo, without even asking," the source said. "Bob isn't happy, and this type of thing just shouldn't happen."
Devine, a political consultant, veteran campaign organizer and online blogger who is running against incumbent Democratic Mayor Samson Steinman in Rahway's upcoming June 3 Democratic primary election, created an print campaign advertisement that includes a photo showing Menendez and Devine standing side by side, the source said.
"US Senator Bob Menendez, pictured here with Rahway Democrat Jim Devine, is asking you to protect Medicare," the photo's caption on the ad reads.
The photo is placed on the ad underneath Menendez's official campaign logo and above a Menendez campaign literature piece calling on voters to fight against changes that Congressional Republicans have proposed to Medicare.
At the bottom of the Devine ad, the words "Democrats Vote Column F" are printed, a reference to Devine's position on the Rahway primary ballot.
While the original Menendez campaign literature piece calls the potential Republican changes to Medicare "an absolutely outrageous proposal," some Democrats found Devine's use of Menendez's campaign logo and literature, as well the joint Devine-Menendez photo, equally outrageous because of Devine's recent legal difficulties.
Devine was found guilty in April of shoplifting $22.47 worth of items from a city grocery store, a decision Devine has publicly called "ludicrous" and "a miscarriage of justice."
"Senator Menendez has spent 40 years in public service, and a result has built up the good name that he has," said Paul Brubaker, Menendez's state director. "While he is often willing to do everything he can to help candidates who want to go into public service, at the very least a candidate should seek the Senator's permission before using his name, image and words."
Devine could not immediately be reached for comment.