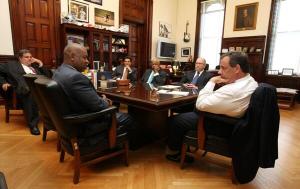 NEWARK – A source with direct knowledge of Tuesday's meeting between Governor Chris Christie, Essex County Executive Joe DiVincenzo and Newark Mayor-elect Ras Baraka told PolitickerNJ.com that the first meeting between the three powerful politicos was "very positive."
"It was a great first meeting. The governor was very supportive, and he said that [he had] invested a lot in Newark and wants to see Newark go forward. [Christie] wants to work with the new mayor," the source told PolitickerNJ.com on condition of anonymity on Wednesday. "I think it went really well."
Observers of the Garden State political scene could have expected tension to be high between Christie, DiVincenzo and Baraka before Tuesday's meeting. The three men, all native Newarkers, have not exactly seen eye-to-eye politically.
DiVincenzo was the most prominent Democrat to publicly endorse Christie, a potential Republican presidential candidate, for re-election last year and remains a close ally of the governor. DiVincenzo also endorsed rival Newark mayoral candidate Shavar Jeffries over Baraka, a Democrat who enjoys staunch public-sector labor union support, on the last day of the Newark mayoral campaign.
The day before the Newark mayoral election, Baraka told PolitickerNJ.com that "Newark is going forward – it's just going forward with the people, and not with Joe D."
But according to the source, Christie pointed to recent major construction projects in downtown Newark, including the new Panasonic building and the ongoing Prudential building project, as examples of the need for DiVincenzo and Baraka to put aside recent differences for the sake of New Jersey's largest city.
"[Christie] said that he wants [DiVincenzo and Baraka] to have a relationship and that [they] have got to work together as a team," the source said. "[Baraka] handled himself very well for a first meeting. It was very, very positive."