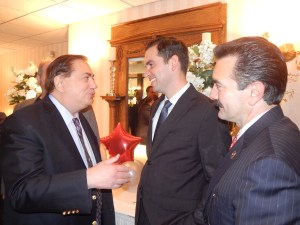 Hudson politics is more subtle and byzantine than in other places, said the source, speaking on condition of anonymity to PolitickerNJ.
"But this is the most important race in the state this cycle with implications that reach way beyond [West New York]," said the source, regarding the north Hudson County terrain with fascination. Within Hudson, the West New York freeholder race is in the spotlight equal to if not surpassing the Bayonne mayoral race, he said.
Beat up in a federal hacking trial last year and ultimately exonerated, Mayor Felix Roque's introduction of a zero tax increase budget means that if his candidate, Commissioner Caridad Rodriquez, beats incumbent Freeholder Jose Munoz in West New York on Tuesday, Roque returns as a viable mayoral contender and front runner in the 2015 municipal election.
Now he's toast.
A Tuesday win on his local turf against a political animal like Munoz will count for nothing less than his own career as an elected official.
He also wins some status and gains some important allies like U.S. Rep. Albio Sires (D-8), who cares about his longtime ally Rodriquez and is out there big time campaigning for her.
In the world of Hudson protocol, a win for Roque on the heels of a zero tax increase budget (introduced on Wednesday) coupled with the "stability" (it is West New York, that's a very relative term) he has shown as Mayor over the last three months means that Roque would be back, the source insisted. He would have a claim with state Sen. Nick Sacco (D-32) and the Hudson leadership to regain the chairmanship of the West New York Democratic Committee, which Sacco now controls as a caretaker. The source said Roque would have a way to assert his own choice of an Assemblyperson from West New York next year (a seat currently occupied by Assemblywoman Angelica Jimenez); and, he will have earned back his right to county patronage which he hasn't had until the recent county hiring of Commissioner Frias as Hudson Latino Consumer Affairs Outreach Officer working in the county law department.
"Obviously no one would know how important this race is to Roque unless they understood Hudson politics," the source said.
In addition to Roque, the other big winner or big loser on Tuesday is Pablo Fonsecca, Rodriguez's campaign manager.
"Pablo has been told in no uncertain terms [By team Degese, team Sacco/Prieto, and team Fulop] that if Caridad Rodriquez does not win in West New York on Tuesday. he will never be used as a political consultant in Hudson County again," the source said. "No one in Hudson knew Pablo as a political consultant until this race and now he is in the Hudson spotlight. They are all watching him."
West New York is also related to Bayonne's June 10th runoff election, where incumbent Mayor Mark Smith is attempting to stare down challenger Jimmy Davis.
Davis Campaign Manager Joe DeMarco was an original team Roque guy from five years ago during the recall and the WNY business administrator.
"He will most likely be Davis' business administrator if Davis wins," the source said. "That will create a Roque/Davis alliance in the Hudson family of mayors.
But all of that is a very big if, the source acknowledged.
"I assume you know that Munoz is expected to beat Caridad Rodriquez in West New York by a margin close to two to one," the source said. "That is why the county is concerned. The only way Munoz wins back his freeholder seat is with a big win in West New York. The county AND Albio Sires have been spending money on this freeholder race more than any other. What the county leadership did not expect is that Roque put about $100,000 of his own money into this race in WNY as well. That fact has been earning him some respect with the county leadership."
But will it be enough against back-against-the-wall Munoz, who's mortgaged his own house to get the money to throw at this race?