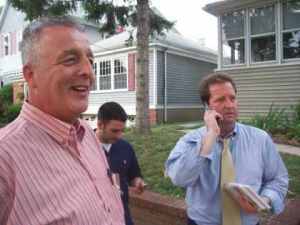 My God, Bayonne.
What started as a local barge brawl, funny to those observers witnessing the fisticuffs from afar, in the span of a week has turned into a crisis threatening to drag asunder and severely muddy politicians from beyond the three ward perimeter of this maritime city best known for giving birth to boxing underdog icon Chuck Wepner.
Some of the biggest brand names in Hudson County Democratic Party politics, starting with Jersey City Mayor Steve Fulop, feel suddenly as though they not only must pay attention to Bayonne's June 10th runoff election – but be doubly on guard not to look weak as a consequence of the outcome.
Those closest to incumbent Mayor Mark Smith are the most jittery, for the three-way race for mayor last Tuesday left Smith improbably clinging to a one-percent lead over challenger Jimmy Davis, a local police captain.
The fact that Smith staggered into the runoff has old establishment enemies surfacing and looking to propel Davis to victory past what some in the Hudson firmament see as Bayonne's hulking political carcass in office, who also happens to wear a badge for living.
The irony is that Smith's biggest local ally now is also the man who has to stand beside him for the sake of political continuity and for the sake of a mutual pal union leader, and that's Fulop.
A year ago, Smith – who then was serving as the chairman of the Hudson County Democratic Organization (HCDO) – was trying to eradicate the upstart councilman turned mayoral candidate from Jersey City.
Smith went all in with doomed incumbent Jerry Healy, whom Fulop defeated. In the aftermath of that election, Fulop is reported to have gotten on a phone with the reeling Smith and told him, a year ahead of the Bayonne mayor's election, "I'm coming for you."
Smith spent last summer going door-to-door.
By the time he waded through the rumors of Fulop injecting resources in to help Davis and finally secured Fulop's endorsement, Smith looked invincible.
He and his campaign manager, Assemblyman Jason O'Donnell (D-31) had money to burn, so they backed Fulop's candidate for mayor in Newark: renegade Ras Baraka, who beat the Democratic Party establishment and Smith's old antagonist Essex County Executive Joe DiVincenzo on the same night that Davis snuck up and almost beat Smith.
That donation to Baraka further cemented Smith to Fulop, not that the Jersey City mayor loves that association now.
In the words of one insider close to the developing situation, "Smith was supposed to take care of business and win that damn election, not finish the race in a cast looking for Fulop to wheel him across the next finish line."
Not wanting to look like they can bear the presence of a loser, HCDO players, state Sen. Nick Sacco (D-32) chief among them, are willing to trade the wounded Smith for the surging Davis, sources say.
Operatives worked the phones all weekend, and Fulop had to hear the static of those calls, amplified by the fact that U.S. Sen. Bob Menendez (D-NJ) is a well-documented Smith antagonist.
Of course, Menendez wouldn't admit that – not right now.
A Hudson player ran into the U.S. Senator in the last 48 hours and said something along the lines of, "How about Bayonne?"
Menendez shrugged.
But that public disinterest belies the HCDO placing a personal invitation to Davis to appear at tomorrow's party organization soiree at Casino in the Park in Jersey City and a general back-chattering of glee around discharging the Bayonne mayor.
Stunned by Smith's loss and irritated, Fulop allies nonetheless do not see a way to abandon the mayor without looking like double-crossers, especially after Smith and O'Donnell gave money to Baraka, even though they expected him to do better, A; they don't feel beholden to Sacco and his designs for the county, B; and after absorbing the news now a week into the runoff they are convinced a lot of voters in Bayonne didn't vote in last Tuesday's election because they fell into the trap – as a lot of political insiders did – of believing that Smith couldn't loss, C.
D: Laborers chief Ray Pocino backs Smith, and Pocino and Fulop are tight.
Pocino has the back of Fulop's freeholder candidate Gerard Balmir, who's trying to dethrone incumbent Freeholder Jeff Dublin on June 3rd.
So although they chuckle internally – and bitterly – at the irony of now having to help a onetime dreaded enemy as the rest of the county tries to grind in a boot heel in the midst of a brawl that just won't go away, and won't appear publicly anywhere close to the mess, Fulop and his operatives won't abandon Smith, sources say.