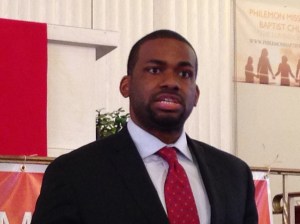 Some candidates decide after a tough loss that they don't want to continue in politics.
Don't count Shavar Jeffries among them, say sources close to the loser in last week's Newark mayor's race.
The competitive Jeffries intends to double down on his local activities and will watch City Hall closely, sources say.
A former state assistant Attorney General and law professor at Seton Hall University, Jeffries is likely to run in four years if Mayor-elect Ras Baraka stumbles, sources close to the candidate told PolitickerNJ.
Baraka defeated Jeffries, 23,751 (54%) to 20,260 (46%) votes in an election punctuated by a splurge of late establishment air war money on Jeffries and a superior, grassroots and public sector labor-infused street operation by the winner.
If the Democratic Party establishment-aided Jeffries couldn't close the gap to single digits against Baraka he would have had to slink away from city politics, sources said.
But the single-digit loss gives him a base, attained in no small part with the help of the North Ward Democratic Organization, according to party sources.
Nursing wounds sustained in the loss, Jeffries recognized certain errors and challenges within his troubled campaign, sources told PolitickerNJ, and would hope to build a better operation if he runs again in the future.
One Democratic Party source speculated on a possible 2015 legislative run by Jeffries.
Assemblywoman L. Grace Spencer (D-29) is up for re-election next year.
A prosecuting attorney, Spencer came to power under the auspices of political protection by U.S. Sen. Cory Booker (D-NJ), the late U.S. Rep. Donald Payne (D-10) and the North Ward Democratic Organization.
She stayed neutral in this year's mayor's race.
In a Baraka City Hall, will the arrangement protecting Spencer endure, and short of Team Baraka and the county coming together, would Jeffries – who strengthened his alliance to Essex County Executive Joe DiVincenzo during his mayoral bid – consider a Democratic Primary legislative run politically advantageous as part of building toward another citywide race?
If Jeffries does not run for a legislative seat, he will , at the very least, remain active and visible and political, sources say.
*Note: Jeffries currently lives in the 28th District, not the 29th.